Western Australia's latest state budget includes US$165 million for a new Fremantle Traffic Bridge. The scheme has also been placed on Infrastructure Australia's priority list for this year.
The Public Transport Authority is currently working with Main Roads Western Australia on the business case for the Fremantle Traffic Bridge replacement, which has been broadened to consider the addition of rail.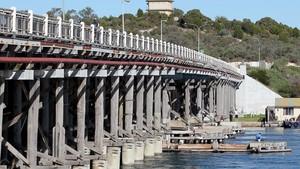 The bridge over the Swan River was originally built in 1938 as a temporary structure. Replacing it will put an end to expensive patch-ups, said transport minister Rita Saffioti.
The old structure has served the area well for 80 years but is deteriorating and becoming a liability, said Saffioti. "Replacing the Fremantle Traffic Bridge will create 1,500 jobs and will ensure public safety - not just for motorists, cyclists and pedestrians, but also boats using the Swan River below," she said. She added that the replacement also provides an opportunity to examine the opportunities to expand rail access into Fremantle - both for passenger and freight trains. "With increased rail capacity, the new bridge could unlock the next phase of the expansion of freight on rail and reducing truck movements on metropolitan roads," she said.
It is anticipated that construction of the bridge would start in 2021-22 and take approximately two years to complete.