This equipment was sold to a contact made directly through www.bridgeweb.com.

If you have equipment to sell, please contact Lisa Bentley on +44 207 973 4698 or email l.bentley@hgluk.com for further information.
Original ad copy: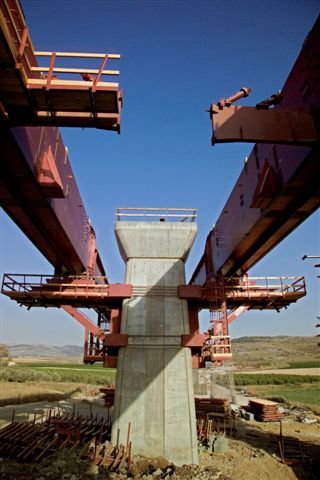 Major contractor Minrav Engineering & Construction is inviting offers for the sale of two movable scaffolding systems. The contractor is also willing to form joint ventures with other contractors or purchasers to use the MSS in future projects, and to offer its experienced personnel to assist this endeavour.
Minrav Engineering and Construction LTD ("Minrav") is one of the largest construction companies in Israel. Minrav has now finished building the two largest railway bridges ever built in Israel (2km each) using two MSS units.
Minrav is willing to sell one MSS unit and is inviting offers for the purchase of one of the systems.
The design of both systems is based on proven dual "under slung girder" designed by the supplier (Strukturas AS, Norway), with cross beams supporting the form system together with all the necessary platforms and access ways.
The maximum supporting span is 46m while the max casting length is 55m.

The average deck weight per running meter is approximately 19 ton/m
The design is generally based on a max deformation of L/450 for the main girders.
The MSS is able to be operated downhill or uphill with Longitudinal slope approx 3% and transverse slope of 2.5%.
The approximate total weight of each one of the MSS: 650 t.
The systems are being painted in blue and red colors.
The MSS Structural Steel Components:
Each MSS consists out of the following major components:
Main girder with transverse Beam system. (Underslung main girder).
Nose and Tail trusses - to allow the equipment to advance to the next span.
Suspension gallow at the 1/5L point - to support the rear of the equipment
3 pairs of Brackets - to support the entire MSS equipment.
External formwork.
Internal formwork and internal formwork rolling wagon.
Platforms and access ladders, including platforms on top of the nose.
Launching wagons, including sliding plates and pushing arrangement details.
Support and adjustment structures. (Mechanical adjustable jacks for setting of cambering).
MSS Main Hydraulic Components:

Main jacks, (Front and rear) for lowering/lifting of the MSS
Longitudinal Launching Cylinders
Transverse Launching Cylinders.
Hydraulic pumps and noses as required.
Hydraulic supplementaries and necessities.
Inner form:
A mechanized-hydraulic Inner form, which includes the followings:
Internal formwork rolling wagon.
The internal formwork is based on steel support, and plywood as sheeting.
Documentation:
Each MSS has the relevant manufacturer certificate.