Infrastructure manager Network Rail has contributed its design data to the app, which enables passengers with an Apple smartphone to see how the replacement bridges will look at their own stations.
The app, called ARki and developed by Darf Design, was originally used for buildings. It has now been expanded through collaboration with Network Rail and Wood to incorporate the new generation of signature footbridges that is being rolled out.
Network Rail has developed three footbridge designs:
The Beacon – a fully glazed bridge featuring lantern-topped lift towers and a dynamic articulated engineered structure;
The Ribbon – an update of the classic arched footbridge with a floating canopy spanning the track, featuring 30° lift and stair rotations;
The Frame – a minimalist design that offers a range of configurations. It won a design competition run last year by Network Rail and the Royal Institute of British Architects (link opens in new tab). The design by Gottlieb Paludan Architects of Denmark with Czech firm Strasky, Husty & Partners was judged best among 120 entries from 19 countries.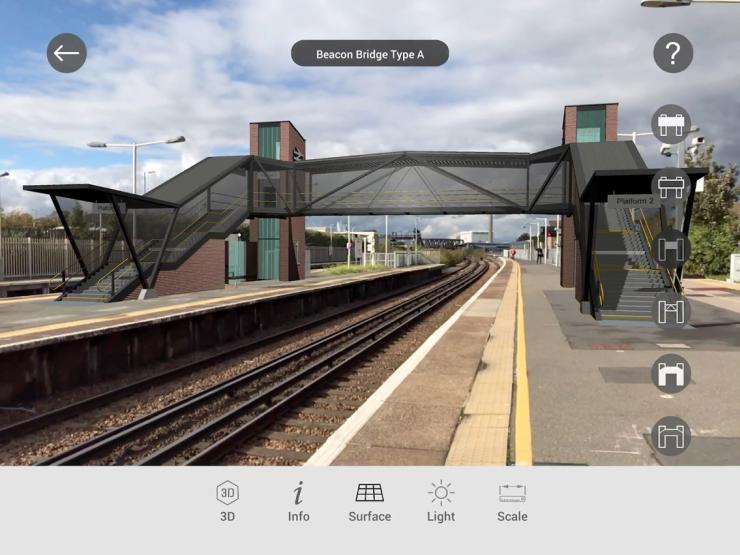 "The app will give our customers a glimpse of their future station, using new technology to give a level of detail we've never provided before," said Anthony Dewar, professional head, buildings and architecture at Network Rail. "As well as keeping local people informed of changes to their station, it provides a fitting, high-tech showcase for our exciting new footbridge designs. We're very proud of the three new designs and want as many people as possible to be aware of and appreciate them – the app is the perfect way to showcase the footbridges to as large an audience as possible."
The app integrates the design files into a smartphone's video footage. "Our vision is to allow designers to share their 3D models in the real world," said Sahar Fikouhi, founder of interactive design studio Darf Design and developer of ARki.