William Killeen explains how having prefabricated modular bridges to hand can improve disaster response
Durable, ready-to-assemble and easily transportable, prefabricated modular steel bridges are well suited for both permanent and emergency situations. The planning and construction methods used for these bridges support the intent of the US Federal Highway Administration's guidelines for accelerated bridge construction, producing safer bridges of higher quality and longer service lives than can be realised with conventional construction.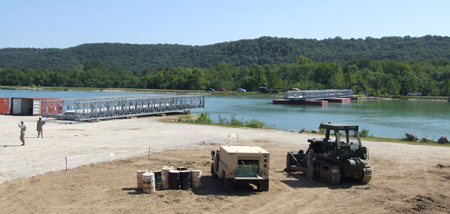 With training, a local crew can install a prefabricated bridge much faster than a conventional bridge – generally anything from a matter of days to a few weeks for a prefabricated bridge versus six months to two years for a conventional bridge. Whether the goal is to replace a single span or entire bridge in an emergency or as part of a scheduled project, the faster the installation, the quicker everyday life can be restored and commerce can continue.
Acrow Bridge has a long-standing partnership with the US Army to help regions around the world respond effectively to national emergencies. When disaster strikes, countries, by and large, rely heavily on their own military or outside military organisations, such as United Nations military personnel, for large-scale deployment of rescue and relief efforts.
These efforts depend on gaining quick access to areas often cut off from the rest of the world because of transportation infrastructure severely compromised by a disaster. Having an inventory of ready-to-assemble roadway bridges and trained local military and civilian crews for immediate deployment during this critical period can make all the difference in successfully establishing emergency routes.
Acrow's modular panel bridges are ideal for emergency use, as they are built from steel bridge components that can be easily transported, assembled and dismantled, stored and reused wherever they are needed. The Acrow bridge is the largest bridge that the US Army uses, and is capable of carrying the weight of the military's heaviest trucks and tracked vehicles.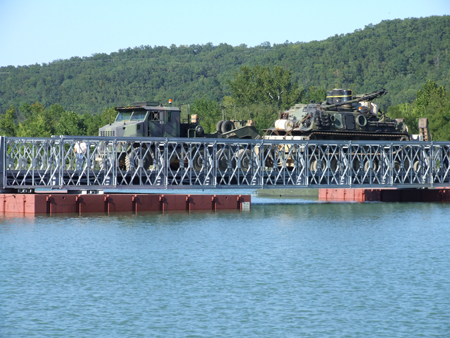 The country of Nepal is one of the most recent recipients of Acrow bridges. It is nestled in the Himalayas, in a region vulnerable to natural disasters, including landslides, avalanches, earthquakes and floods. In 2014, four bridges were sent to Nepal as part of the country's disaster readiness plan to keep a main supply route open in the event of a catastrophe. Stored along Nepal's major motorways, each bridge provides clear spans of 76m and a roadway 5m wide, capable of supporting trucks and track vehicles weighing up to 120t. The bridges can be assembled to different lengths, using a minimum of equipment.
Before the bridges arrived, Acrow trained a small delegation of Nepalese Army personnel in bridge assembly and maintenance. The delegation completed a week-long intensive training course at the company's facilities in New Jersey, USA, gaining hands-on experience in assembling various bridge configurations and launching a small-scale bridge to understand the principles of a cantilevered bridge system. The graduates of this programme are currently training their colleagues back in Nepal. Acrow is planning to supplement these efforts with follow-up training in Nepal in 2015.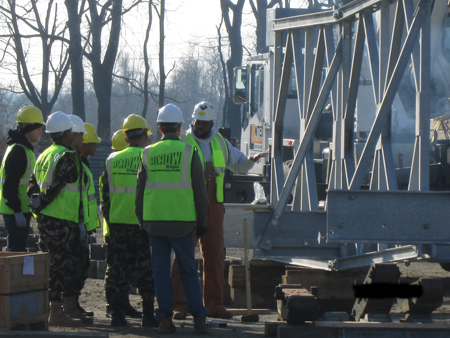 The supply of bridges proved timely; in September 2014, one of the bridges had to be put into use after an enormous landslide blocked one of Nepal's main motorways. In less than two weeks, the Nepalese Army was able to install an Acrow bridge over the Sunkoshi River, restoring the flow of traffic between Nepal and Tibet.
Acrow bridges are used by militaries around the world to connect civilians and communities to the necessities they need to return to normal life after a catastrophic event. This ranges from the Chilean Army, which replaced three bridges serving a major metropolitan region that were destroyed by the 2010 earthquake with a 1.46km-long Acrow bridge, to the Australian Department of Defence, which keeps a large inventory of Acrow bridges on hand for both domestic and international emergencies. As part of these schemes, Acrow provided extensive classroom and in-the-field training to military personnel.
Speed of installation is critical not just for the civilians, whose lives have been displaced, but also for the soldiers working onsite. Fast installation means that soldiers are exposed to the hazardous conditions of an emergency construction site for a shorter time.
The fact that minimal equipment is required for assembly and installation is also an advantage, especially when the logistics of acquiring and transporting heavy equipment, such as a crane, to a disaster site can be challenging at best.
Above all, bridge components prefabricated offsite in a controlled manufacturing environment ensure consistency in quality. Acrow fabricates bridges under quality assurance systems certified by the International Standards Organisation, American Institute of Steel Construction, and certificate of conformity for the European marketplace.
Only high strength, high quality US steel from ISO-certified mills is used, and every bridge component is galvanised to ensure a service life of more than 75 years. These benefits and more make prefabricated modular steel bridging the clear choice for emergency, not just permanent, use.
William Killeen is president and CEO of Acrow Bridge