The hybrid cable-stayed suspension bridge is part of the Northern Marmara Highway project, a 150km link between the cities of Odayeri and Pasaköy. In 2012, a joint venture of IC Ictas and Astaldi was awarded the contract for the project, which has a total value of more than US$3 billion. The inauguration also marks the opening of the first phase of the North Marmara Highway. Construction activities for the contract began in 2013 and work on the remaining sections of motorway is ongoing.
"The Third Bosphorus Bridge is a bridge of firsts that brings the industry of professional engineering to new heights," said Astaldi Group chairman Paolo Astaldi.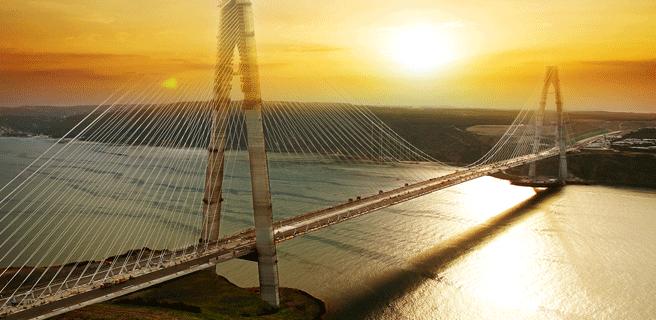 The bridge – officially called the Yavuz Sultan Selim Bridge - has been built in less than three years. It claims a number of records, including being the only suspension bridge in the world whose deck includes both motorway (eight lanes) and railway (two lines), all on the same level. It is exceptionally wide – 59m – and has record-breaking A-shaped towers that reach a height of 322m – taller than the Eiffel Tower. The 1,408m main span is far longer than the record for a purely cable-stayed span – the 1,104m-span Russky Island Bridge.
Works on the Northern Marmara Highway Project have been carried out using the build-operate-transfer model. The concession contract runs until 2024 and covers design and construction activities, as well as subsequent operation and maintenance of the motorway section. At the end of this period, the project will be transferred to the Ministry of Transportation.