A request for proposals (RFP) for the provision of construction and design services has been released by Ohio Department of Transportation (ODOT) and the Kentucky Transportation Cabinet (KYTC). The move follows the recent award of US$1.635 billion in federal investment to move the Brent Spence Bridge Corridor project forward.
The contract includes improvements to the Brent Spence Bridge and construction of a companion structure, as well as work on the corridor in Kentucky and Ohio.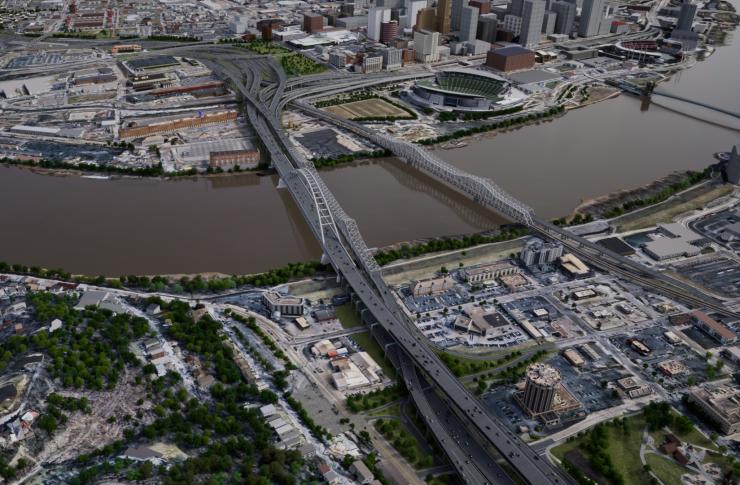 Responses to the RFP are due by the end of March. The schedule calls for the design-build team to be selected in May, allowing for planning to take place immediately and initial construction work to begin before the year's end.
This project will be delivered using "progressive design-build". The contract award will be based on qualifications, the best overall approach and value. The design-build team will then collaborate with the bi-state project team and local stakeholders early in the process, with the aim of assessing and mitigating potential risks while there is still an opportunity to influence them. The approach is also intended to help the bidder and the project team avoid excessive cost overruns, as the design-build team will have more thorough knowledge of the project before negotiating a price.
"The progressive design-build process is the right delivery approach based on the complexity of this project," said KYTC secretary Jim Gray. "Working in collaboration with the contractor during the design process will bring more innovative design ideas to the table and improve the project overall."
"Our bi-state project team has spent a lot of time preparing for this work and reaching out to the public to ensure those within the project area have had a voice in the process," said ODOT director Jack Marchbanks. "This project connects neighborhoods, states and the nation. We can't wait to get started."
Groundbreaking is expected to take place in late 2023, with construction beginning in earnest in 2024 and a substantial completion goal of 2029.