Cadillac Fairview (CF) held an international design competition and ultimately selected architect Wilkinson Eyre based on its design pedigree and relevant experience. The bridge will cross Queen Street to integrate the CF Toronto Eaton Centre with the Hudson's Bay and Saks Fifth Avenue stores.
Construction is slated to begin this month. The bridge will be assembled adjacent to the shopping centre on James Street and then lifted into place once. It is due to open this autumn.
The structure features glass and etched bronze cladding panels and is intended to provide memorable vantage points for both users looking outward and street-level pedestrians looking up at the new bridge.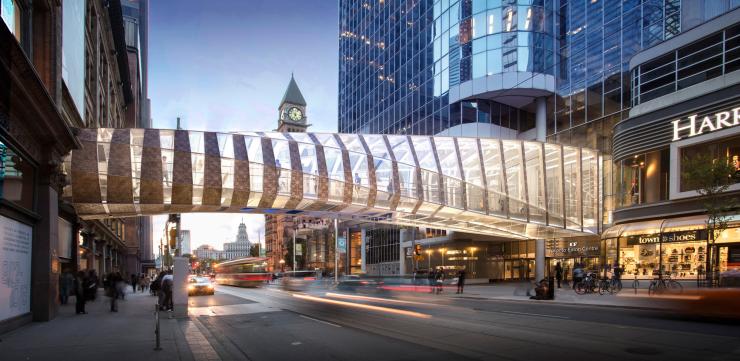 "We designed the bridge's form to connect together the two inherent geometries of each building, transforming from the historical, circular arches of the Hudson's Bay and Saks Fifth Avenue building to the modern rectangular geometry of CF Toronto Eaton Centre," said Dominic Bettison, designer of the bridge and director at Wilkinson Eyre. "This union of the two buildings is further reinforced by the use of bronze and glass cladding, inspired by the materials used on both buildings, which flow, wave-like in opposite directions across the bridge."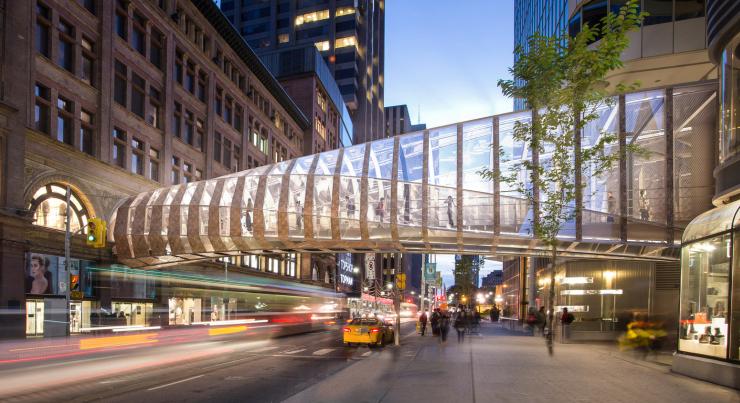 Working closely with Wilkinson Eyre is local architect, Zeidler Partnership Architect, which designed the original bridge, and CF Toronto Eaton Centre in association with B+H. Other partners involved in the bridge redevelopment include: construction manager PCL Construction; electrical and lighting engineer Mulvey & Banani International; structural engineer Read Jones Christoffersen Consulting Engineers; and mechanical engineer Mitchell Partnership.