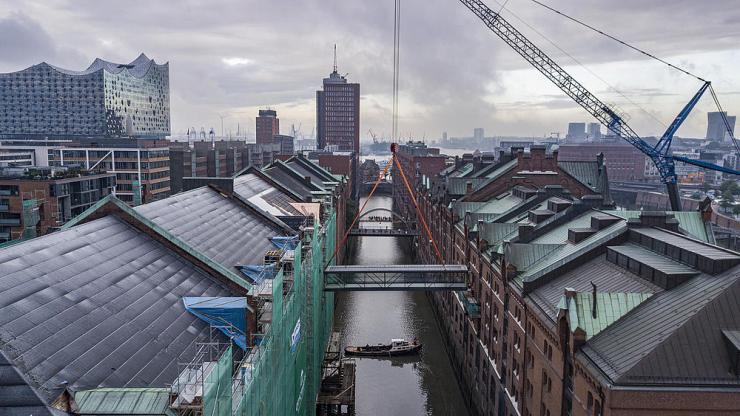 Image above: HHLA / Thies Rätzke
The new bridge crosses the Kehrwieder Canal in the Speicherstadt warehouse district in Hamburg, Germany. The bridge creates a direct connection between the Miniatur Wunderland's existing model railway exhibition space in Warehouse D and the future expansion area across the canal in Warehouse L.
The building owner and client is the real estate business of Hamburger Hafen und Logistik (HHLA), which is responsible for the management and development of the historic warehouse district.
Image below: HHLA / Thies Rätzke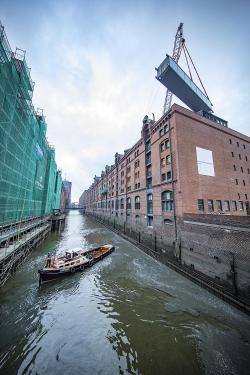 A low loader transported the 25m-long, 36t bridge to the Speicherstadt district overnight. Placement began at 5am on 15 July, with the help of a 750t mobile crane.
The crane lifted the bridge over the 28m-high Warehouse D in an operation that took about three hours.
Initial planning for the bridge began about 10 years ago. The local monument preservation office has been closely involved in the process.
"This is truly an amazing moment," said Rainer Schluff, technical managing director of HHLA Real Estate. "When you have been working on a project like this for so long, it's rather special to finally see this structure in the place where it belongs."
He added: "With this, we are setting the stage for the expansion and further development of one of the most popular tourist magnets in Hamburg, Miniatur Wunderland, the world's largest model railway."
The the steel structure is fully glazed with anti-reflective glazing, providing a view of the Kehrwieder Canal on both sides. As there is a difference in the height of the two buildings, the bridge runs at a slight decline from Block D to Warehouse L.
Warehouse L is currently undergoing extensive renovation and will provide Miniatur Wunderland with additional exhibition space of approximately 3,500m2, which will be used for a miniature of the South American continent. A railway line will also be laid across the new canal bridge.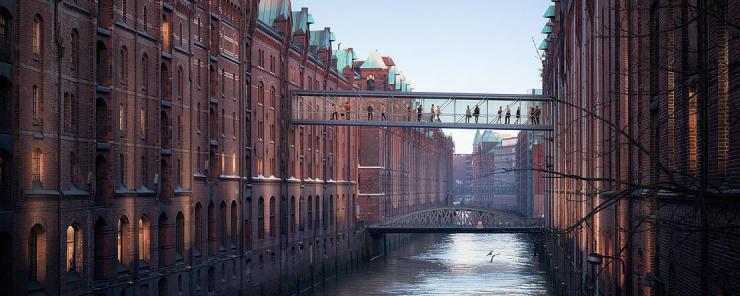 Image above: HHLA / bloomingimages