The total length of the bridge is 1,600m, of which 1,240m will take the form of a multi-span extradosed bridge with individual span lengths of 200m between pylons. There will be a Y-shaped junction at the south bank.

Assam's chief minister Sarbananda Sonowal attended the ceremony for the US$360 million bridge, which will cross the Brahmaputra in Guwahati. Indian's prime minister Narendra Modi had laid a foundation stone for the project last year.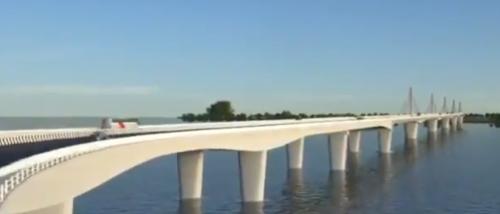 Sonowal said that the bridge will reduce travel times between north and south banks of the Brahmaputra and will also go a long way in reducing traffic congestion and air pollution in the region.
The state government said that one of the reasons for choosing the extradosed design was that it reduced the number of foundations in the river compared to a conventional bridge design. Its appearance and shorter construction time were also factors.