Modjeski & Masters has been appointed by the Delaware River Port Authority (DRPA) to work on the design of repairs for the Commodore Barry Bridge in the USA.
It will lead a team providing design services for the inspection and rehabilitation of the bridge, which crosses the Delaware River to link Chester in Pennsylvania to Bridgeport in New Jersey.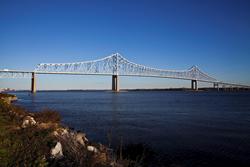 The Commodore Barry Bridge is the longest steel cantilever bridge in the USA and fourth longest in the world. It has a total length of 4,240m feet with a main span of 501m. It consists of 77 spans, which include 63 steel multi-girder spans, 11 deck truss spans and three continuous cantilever through-trusses.
The bridge is one of four main Delaware River crossings, owned and operated by DRPA, that connect New Jersey and Pennsylvania in the Philadelphia metro area.
The current project will extend from east to west abutment and include river piers, 11 deck truss spans, six ramp stinger spans, 63 approach stinger truss spans and two overpass stinger spans on US Rt 130. Modjeski & Masters will develop a final design package, including plans, specifications, cost estimates and a construction schedule, for the needed repairs. The DRPA will then use the documents to solicit bids from construction contractors to accomplish the needed repairs.