The Storstrøm Bridge Joint Venture is now effectively made up of two companies rather than the three when the winning tender was originally announced by Denmark's roads authority, Vejdireektoratet, in October (link opens in new tab).
SBJV still technically consists of the same three construction companies - Itinera, Grandi Livori Fincosit and Condotte – but the latter now has a shareholding of only 0.01% as it has applied to the Italian authorities for restructuring.
With the signing of the US$347 million contract, SBJV is now able to begin preparations for the construction of Denmark's third largest bridge.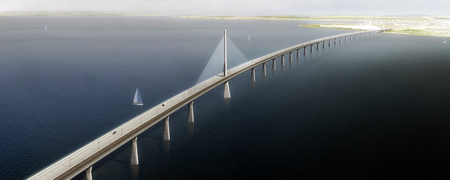 Work is expected to start on site this autumn, with the road section due to open in 2022 and the railway the following year. The total price for the project including demolition of the existing bridge is approximately US$678 million.