The 6.4km-long Wufengshan Bridge crosses the Yangtze river and has a main span of 1,092m. The upper level carries eight lanes of traffic with a maximum speed of 100km/h, while the lower level comprises four rail lines with a design speed of 250km/h.
The country's first suspension bridge that integrates highway and rail is located in east China's Jiangsu Province, linking Yangzhou and Zhenjiang.
According to the state-run Xinhua News Agency, construction of the bridge is expected to be completed this year, reducing travel time from 11 to three hours between Lianyungang in Jiangsu province and Shanghai.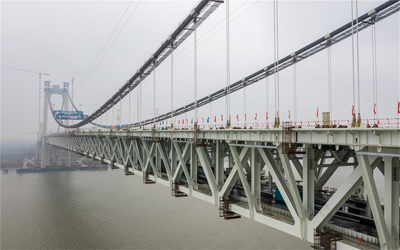 Image: Xinhua News Agency