Seattle Department of Transportation (SDOT) has selected HNTB Corporation to carry out work. The design will be needed regardless of whether the city decides to repair or replace the bridge as a next step; the bridge will eventually need to be replaced. The hunt for a designer began in June (link opens in new tab).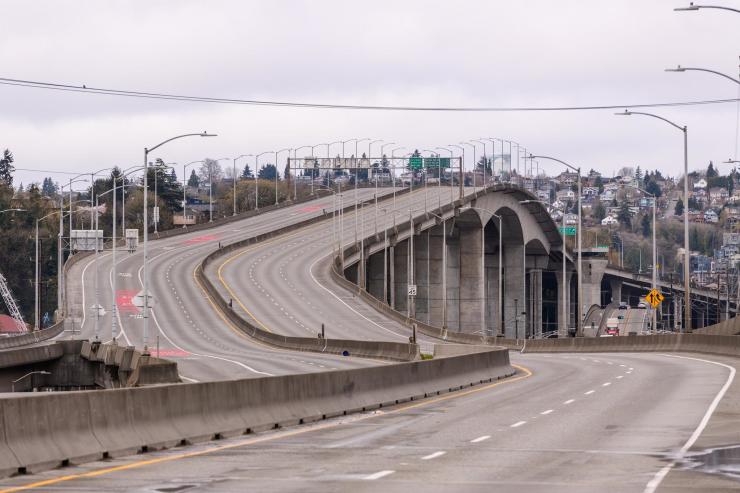 Above: photo by SDOT
"By bringing on a firm to design a replacement of the West Seattle High-Rise Bridge now, we're ensuring that all of the pieces are in place to quickly pivot if it becomes clear that repairing the bridge is not advisable," said the department. It said that the appointment would avoid any loss of valuable time hiring a design team to begin the rebuilding process. "It also prepares us for the inevitable need to replace this critical route, even if the original bridge can be repaired and reopened for some amount of time."
One of HNTB's first tasks will be to complete a study in order to determine the type, size and location of several bridge and tunnel replacement options, building on cost-benefit analysis already in progress.
"Thousands of individuals and businesses depend on the safe and quick restoration of the bridge's mobility functions," said Ted Zoli, HNTB's project manager for the scheme. "HNTB has provided similar services to clients in emergency situations. Our team is built to deliver a rapid return to mobility for West Seattle, the Duwamish Valley and other communities."
Zoli, who is the firm's national bridge chief engineer, led the emergency replacement of the Lake Champlain Bridge connecting New York and Vermont and was a key design team member of the South Park Bridge emergency replacement in Seattle, also designed by HNTB.
Members of HNTB's core team include Parametrix and Bohlinger Consulting. HNTB's team also includes specialists in structural engineering, environmental planning, permitting, geotechnical engineering, infrastructure funding and project delivery. In all, the HNTB team includes 26 firms.
SDOT had already appointed Kraemer North America as bridge stabilisation construction contractor for the current safety programme and WSP as lead repair and stabilisation structural engineering consultant.