The new design aims to provide a faster, more sustainable and affordable option than traditional steel structures.
The first location to benefit from the new design is a rural crossing, just north of Craven Arms, in the Shropshire hills in England. The new bridge replaces a high-risk level crossing that closed a number of years ago after it was deemed unsafe for use. A community event was held to mark the opening.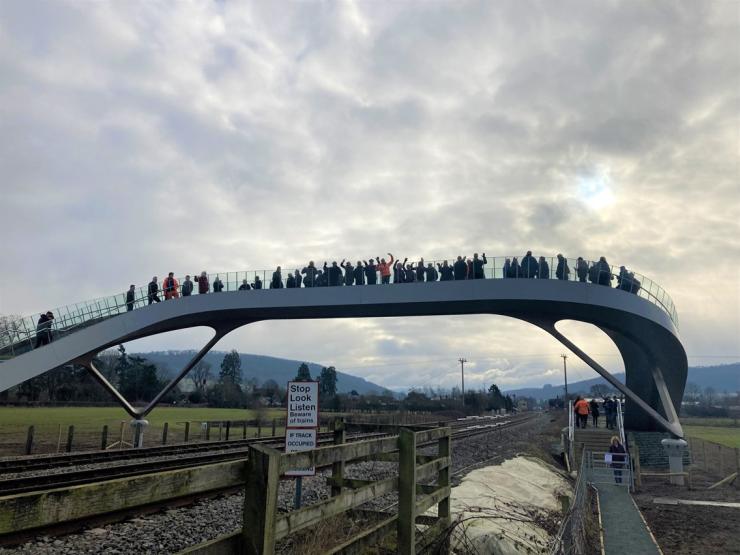 The design is called 'Flow', standing for fibre-reinforced polymer (FRP), lower cost, optimised design, working bridge. It has been designed and funded by Network Rail's Research & Development (R&D) team, alongside industry specialists. Also involved in the project were NRDD, Network Rail Works Delivery, Foflo, Knight Architects, Jacobs, Sui Generis, KS Composites, JT Consulting, Q-Railing, Insenys and Balfour Beatty. The design was unveiled in 2021 (link opens in new tab).
The 21m-long bridge, has been designed to save time and money, costing about 40% less than traditional steel structures. No concrete is used in the foundations, reducing its carbon footprint, and it weighs half of a traditional steel bridge, meaning lower transportation and installation costs.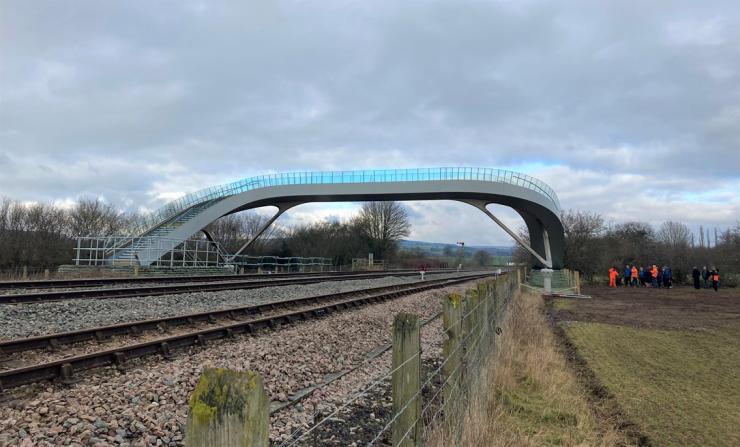 With the majority of construction taking place off site, installation is able to take place without disruption to passenger services, said Network Rail.
The bridge is equipped with a real-time structural health monitoring system (SHM) which records how it performs, allowing future improvements to the design and more efficient maintenance, as well as tracking its use.
Andy Cross, programme manager at Network Rail Wales & Borders, played a key role in designing the bridge. "The Flow bridge was designed, first and foremost, as a safety solution but our teams have also gone above and beyond to create a quicker and more sustainable option for the future of the railway," he said. "Its versatile design means we have already started looking at fully accessible versions, with lifts and ramps, for other locations where that would be a suitable option."
Nick Millington, interim route director at Network Rail Wales & Borders, said: "We want to close as many dangerous level crossings as possible, and this new footbridge shows it can be done while saving tax-payers money and without the need to disrupt passengers' journeys during installation.
"I'd like to thank everyone who contributed their time and effort to this innovative project.
"This prototype has the potential to transform railway crossings, making them safer, more affordable and fit for the future."
Owen Thomas, R&D project manager at Network Rail, said: "Thanks to the hard work of our research and development team at Network Rail, we've managed to create a prototype that demonstrates the versatility of composite materials in construction on the railway. Not only is Flow durable and efficient but the design is also aesthetically pleasing which, I am glad to say, is the feedback we've had from the local community in Craven Arms."