Nine footbridge projects were recognised in the awards programme. which is organised and sponsored by Bridge design & engineering magazine - six prize winners in five categories, and three highly-commended projects.
Short span (30m or less)
Winner: Merchant Square Footbridge, London , UK
"Beautiful design, geometry is excellent. This is a playful, provocative and innovative opening bridge which is sophisticated in its static position and poetic in operation. It adds a significant architectural value to this built environment."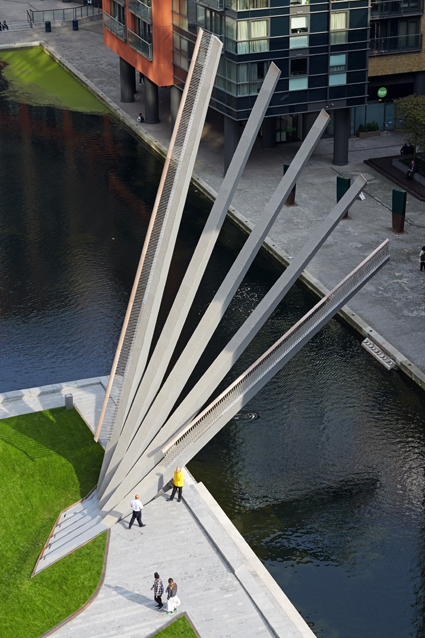 (Photo: Edmund Sumner)
Commissioning authority: European Land & Property Ltd
Architect: Knight Architects
Structural engineer: AKT II
Main contractor: Mace
Mechanical, hydraulic & electrical engineer: Eadon Consulting
Steel fabricator: SH Structures
Lighting design: Studio Fractal
Landscape designer: Townshend Landscape Design
Medium span (30m to 75m)
Joint winner: Park Bridge Spoor Noord, Antwerp, Belgium
"A simple yet very effective solution which creates an interesting crossing for users even though it is fully enclosed. Jury found it hugely impressive that a box girder on this scale could be made without any u-frame, web or diaphragm stiffener. Very clever design and aesthetically strong."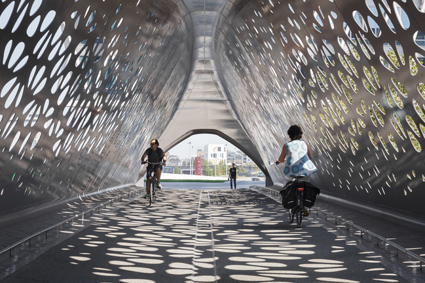 (Photo: Stijn Bollaert)
Commissioning authority: City of Antwerp – AG Vespa
Structural engineer/designer: Ney & Partners
Contractor: Emotec/Emergo Group
Joint winner: Weinbergbruecke, Rathenow, Germany
"A very clever structural solution allowing the creation of a fluid, lightweight deck threading through the landscape. Very high quality and sophisticated structural form has been achieved through form finding, and pleasant spaces have been created, both for those crossing the structure and for those who want to linger."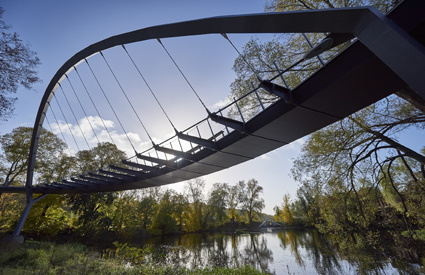 (Photo: Stephan Falk)
Commissioning authority: Stadt Rathenow
Design concept: HCU HafenCity Universität Hamburg
Structural engineer: Schlaich Bergermann Partner, Ingenieurbüro Küchler
Site supervision: Architekturbüro GbR Hartmut & Ilona Pieper
Geotechnics: Ingenieurgesellschaft Fischer
Surveying: Vermessungs- und Sachverständigenbüro Steffen Gries
Main contractor: RW Montage
Checking engineer: Krebs & Kiefer
Landscape architect: Hagen Roßmann
Wind engineering: Wacker Ingenieure
Project management: IdB Ingenieurbüro für Bauleitung Arndt
Long span (more than 75m)
Winner: Beer Sheva High-Tech Park Bridge, Beer Sheva, Israel
"A thorough, rigorous and well-resolved design and an imaginative concept for a long span crossing. It fits well within the railway environment – the footbridge has a clear structural scheme with rhythm, and creates a space where pedestrians feel protected when crossing the train platforms."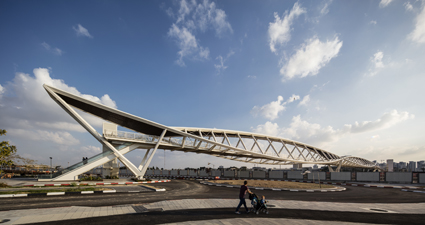 Commissioning authority: City of Be'er Sheva
Architect: Bar Orian Architects
Structural engineer: Rokach Ashkenazi Engineers
Main contractor: Shura Ltd
Steel fabricator: Addi 2000
Lighting designer: Orly Avron-Alkabes Lighting Design
Jonathan Speirs Footbridge Lighting
Winner: George C King Bridge, Calgary, Canada
"By resisting the urge to light the arches of this footbridge, instead 'floating' it on a bed of light, the designers have highlighted the river below and created a distinctive night-time identity for the bridge. A restrained and sophisticated approach to lighting a large structure."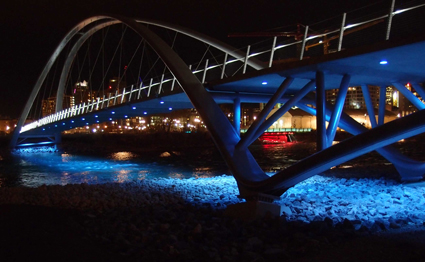 Commissioning authority: Calgary Municipal Land Corporation
Architect: Span
Structural engineer: WSP
Main contractor: Graham
Lighting designer: Speirs & Major
Electrical engineer: Mulvey & Banani International
Electrical contractor: Concept Group
Historic renovation or reuse
Winner: Como Park Footbridge, Saint Paul, Minnesota
"A very good rehabilitation of an old design with modern materials. The bridge has been refurbished while respecting the initial structure."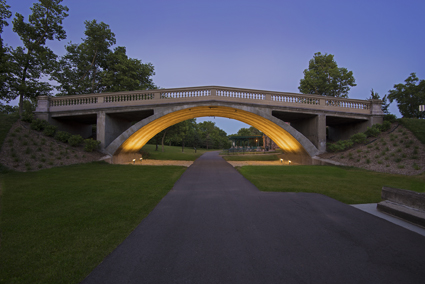 Commissioning authority: City of Saint Paul, Minnesota
Architect: Rosales & Partners
Structural engineer: Clark Engineering
Main contractor: LS Black Constructors
Highly commended:
Cykelslangen, Copenhagen, Denmark (short span)
"A sustainable and understated bridge with significant community benefit. The development of the brief from a simple, practical ramp to a curvaceous route has added interest for users and the design and detailing is appropriate to the speed at which it will be experienced. An integral solution, without bearings, which will reduce maintenance, while the plan curvature allows the footbridge to breathe."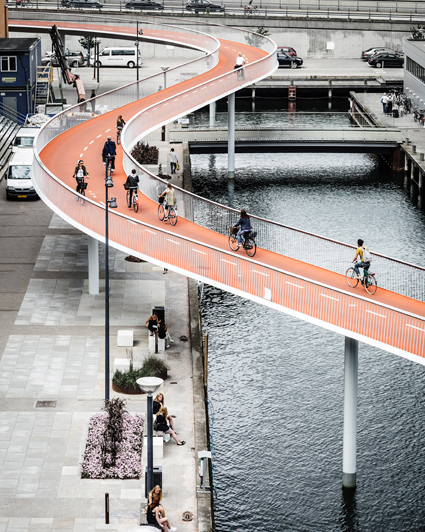 (Photo: Rasmus Hjortshoj)
Commissioning authority: Copenhagen Municipality
Architect: Dissing & Weitling Architecture
Structural engineer: Ramboll
Contractor: MT Hojgaard
Waalhaven Bridge, Rotterdam, The Netherlands (short span)
"Bold but with playful details; the jury liked the suspended staircase and the way the main deck is distinct from its supports, as well as the visual implication that the stairs fold down from the deck. The piers are pleasingly simple and in keeping with the main structure, and the changes in size of the cut-outs enhance the visual interest."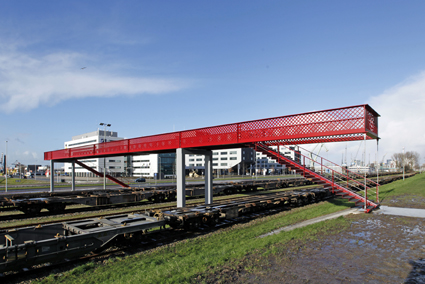 Commissioning authority: Port of Rotterdam
Structural engineer: Adams Bouwadviesbureau
Architect: IPV Delft
Contractor: Wallaard Noordeloos
Inner Harbour Bridge, Copenhagen, Denmark (medium span)
"An ingenious and very challenging design; clever, interesting, complex and contextual. This modern version of a movable bridge is powerful from below and exudes simple elegance above. A very original movable bridge, adding excellent value to the community."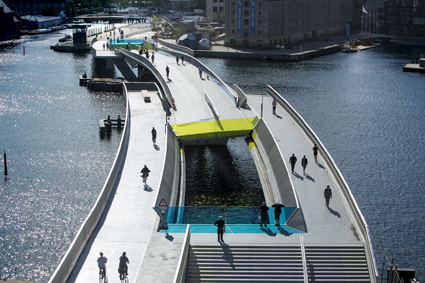 (Photo: Jasper Carlberg)
Commissioning authority: Kobenhavns Kommune
Structural engineer: Cowi
Architect: Studio Bednarski
Contractor: Valmont SM
M&E consultant: Hardesty & Hanover