The new Muiderberg Railway Bridge in the Netherlands was moved on self-propelled modular transporters, using a total of 244 axles and 976 wheels.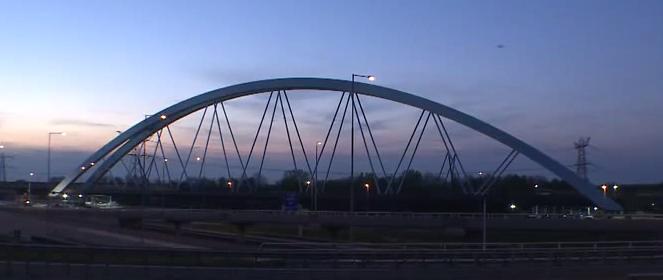 The contracting team of SAAone - made up of Volker Wessels, Boskalis, Hochtief and DIF - brought in heavy-lift specialist Sarens to move the bridge to a temporary position alongside the structure that it will replace.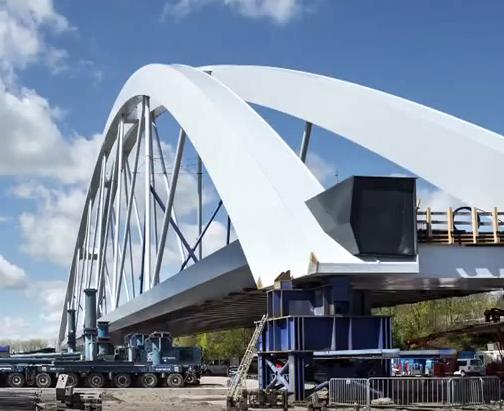 Work was completed smoothly, enabling local roads to be reopened two hours earlier than had been expected.
The operation had to be carried out now, as the bridge will be too heavy for such a move after completion of further works such as concrete placement. Even at its current weight, road capacity checks and carriageway strengthening works were needed to ensure that the load would not sink or become unbalanced.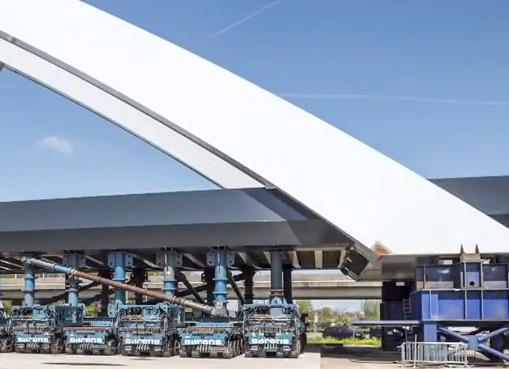 The arch will remain on temporary supports alongside the existing bridge until August, before being slid into its final position once the old structure has been demolished.
The arch, which is 255m long and 55m high, has been under construction by the Dutch Ministry of Infrastructure & the Environment, Rijkswaterstaat, since 2014. It is being built as part of the A1/A6 road improvements on the Schiphol-Amsterdam-Almere route. Steelwork is by Victor Buyck Steel Construction and the designers are IV-Infra and Zwarts & Jansma Architects. ProRail will own and manage the structure once it is complete.