The 'Energy Flow' installation - which is officially switched on today, 18 November - was devised by environmental artist Andrea Polli. Polli provided the design, and Ron Gdovic, CEO of WindStax Wind Power Systems, developed the nanogrids and wind turbines that are the main source of power for scheme.
Power for the 27,000 multi-coloured LED lights that illuminate the Rachel Carson Bridge (also known as the 9th Street Bridge) is provided by 16 specially designed wind turbines, mounted on steel platforms and secured to the structure.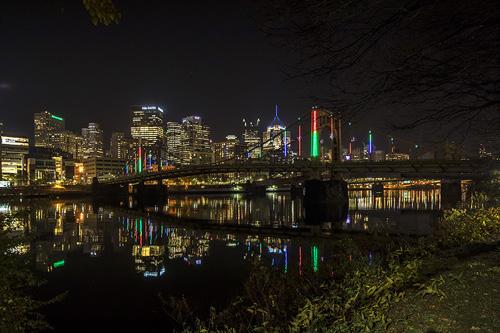 Materials technology company Covestro has supported the project. Covestro's connection to the area's bridges stretches beyond the temporary lighting installation to the coatings that protect the bridge itself. Polyurethane raw materials from Covestro are used to formulate the coatings on the Rachel Carson Bridge and others throughout the region.
The company's support of Energy Flow follows its recent involvement with 'Solar Impulse', a solar-powered plane that flew around the world without using a drop of fossil fuel. "We champion projects like Solar Impulse and Energy Flow because they push the boundaries of what was thought to be possible, using technology in new and innovative ways to drive greater awareness around the topic of sustainability," said Jerry MacCleary, president of Covestro in North America. "That's exactly what we we're trying to achieve at Covestro by embedding sustainability into our innovation strategy."