The mayor of London, Sadiq Khan, announced that American light artist Leo Villareal and British architect and urban planner Lifschutz Davidson Sandilands has won the Illuminated River International Design Competition.
The winning team will now start to develop its design concept in collaboration with stakeholders and partners along the river, and in consultation with the public.
The winning team in full is:
Leo Villareal (lead artist)
Lifschutz Davidson Sandilands (lead consultant)
Future\Pace (curator)
Atelier Ten
Beckett Rankine
Bradley Hemmings
Core Five
Futurecity
Greenwich+Docklands International Festival
Montagu Evans
Pentagram
Price & Myers
Khan said: "We saw an incredible response to this fascinating competition, showing that London continues to inspire creatives from around the globe, and is open to all. There were some spectacular ideas, and I can't wait to see the winning design light up the Thames. Huge congratulations to Leo Villareal and Lifschutz Davidson Sandilands on this fantastic achievement."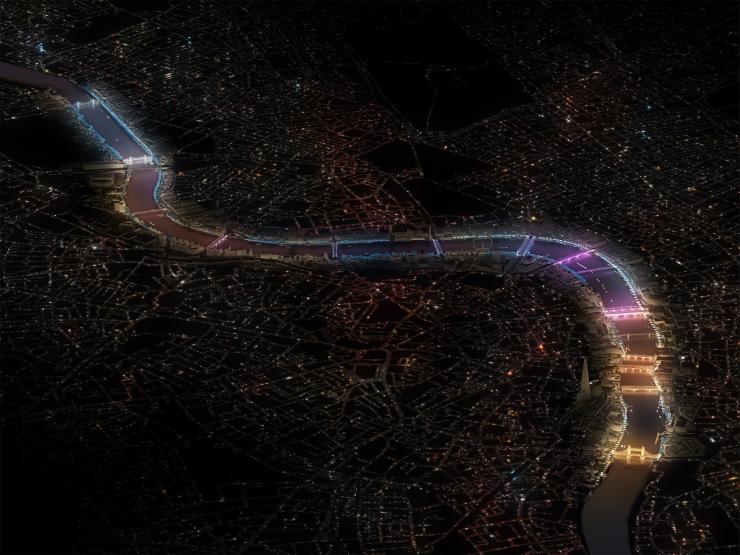 Hannah Rothschild, chair of the Illuminated River Foundation, said: "Leo Villareal's proven ability to paint with light matched with Lifschutz Davidson Sandilands' direct experience of building bridges over the Thames was an irresistible and inspirational combination. Their scheme is beautiful, ambitious and realisable but always considerate to the environment, lighting levels and energy conservation. The jury is convinced that the winning team will transform the centre of London while remaining true to the spirit and integrity of the Thames and its communities."
Leo Villareal came to prominence through his project, the Bay Lights, which lit San Francisco Bay Bridge for two years. Lifschutz Davidson Sandilands has worked on major projects across London including the Golden Jubilee footbridges.
Villareal said: "Our aim is for a lighting masterplan which reduces pollution and wasted energy, is sensitive to history and ecology and subtly rebalances the ambient lighting on the river to provide a beautiful night time experience for residents and visitors."
The competition was run by Malcolm Reading Consultants. The shortlist had been announced in November (link opens in new tab).