The bridge in the US city of Indianapolis has been designed for 16 Tech Community Corporation by a team led by Schlaich Bergermann Partner (SBP) and Practice for Architecture & Urbanism. It will be built in Indianapolis, USA, to link the 16 Tech Innovation District and nearby neighbourhoods to the city's research and medical corridor.
A groundbreaking ceremony was arranged for 28 March to mark the start of work on the bridge, whose design was revealed in 2021 (link opens in new tab).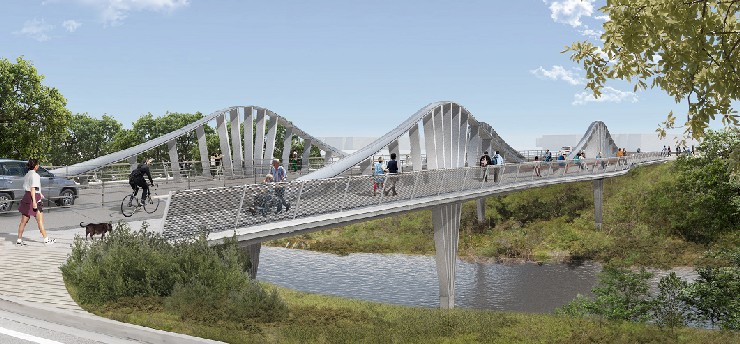 The signature wave-like design was described at the time as being the result of a reinterpretation of the principles of a classic suspension bridge to create a new form. This has been accomplished by replacing the large vertical masts found on a typical suspension bridge with a fan-type arrangement of multiple smaller masts. Flat steel plates replace the traditional suspension cables as the main supports. The bridge's tension element is allowed to follow the new mast arrangement. The design team said at the time that the resulting structure acts like a suspension bridge but is an entirely new approach to the genre.
Opening is due in summer 2024.