Working overnight to keep disruption to a minimum, a construction crew craned four 128t beams on to a new rail bridge in Melbourne that replaces one of the city's many level crossings.
The 1km bridge will carry trains over Webb Street, connecting with a steel bridge section over Cranbourne Road. In between the two bridges there will be a new elevated station.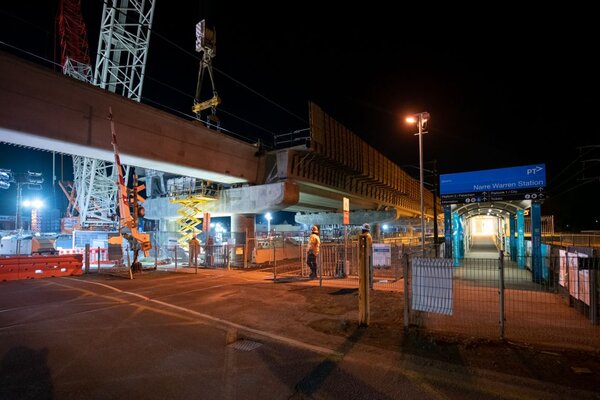 Connecting the beam to the pier and headstock at Webb Street. Source: Big Build Victoria
The contractors are Western Program Alliance, led by McConnell Dowell, consisting of the state government, network operator MTM, Arup and Mott MacDonald.
The completion of this work will make the Pakenham Line free from level crossings. It is part of a project to remove 110 level crossings in Melbourne between 2014 and 2030 (link opens in new tab). The city's flat topography led to the rail network being based on this type of crossing, rather than safer bridges. But as road and rail traffic have increased over the years this type of crossing has caused bottlenecks. Consequently, since the 1950s the state government of Victoria has consistently worked towards replacing level crossings with bridges.