In 2019, Pennoni was tasked to design the replacement of the Abingdon Road Overpass in Harford County, MD as part of the I-95 Express Toll Lanes Northbound Extension project that aims to improve travel in the area.
Due to the proximity to emergency medical services and fire services from Abingdon Fire Company and the need to maintain access for a nearby water treatment facility, valve facility, a historic church and a private residence, the project team was challenged with designing a bridge for phased construction while prioritising constructability and access.
The bridge replacement and approach roadway design was carried out in BIM, as well as the temporary traffic signal design that allows both directions of traffic to share one lane and keep the bridge open during construction.
The design lengthens and slightly raises the bridge, allowing the widening of the I-95 to include two express toll lanes underneath on the northbound lanes. The design also allows for a southbound expansion in the future.
The design was completed in less than 18 months and construction began in 2021. As of 3 August 2022, phase one is complete and traffic has been moved to the new structure and phase 2 is under way. The remainder of the existing structure has been demolished and pile driving for the abutments is currently taking place.
Next steps will involve the installation of reinforcement and concrete for the phase 2 of the pier and abutments as well as the erection of steel girders. Deck and barriers will follow, with the project expected to be completed by the end of 2022.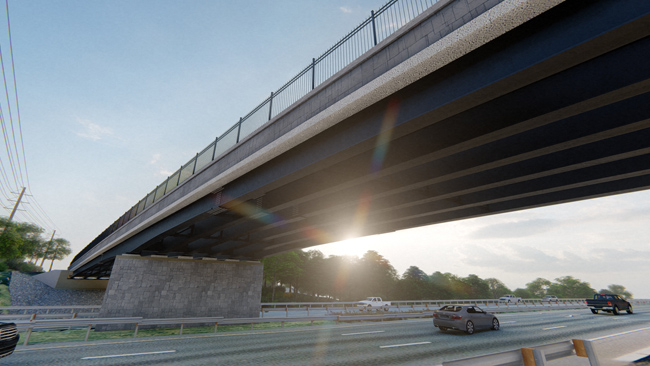 Rendering of the completed Abingdon Overpass (Pennoni)