Engineers have been working to keep the 135-year-old open during the extreme hot spell. The historic Grade II* listed bridge had to be fully closed in August 2020 when micro-fractures in its cast-iron pedestals widened during a heatwave.
Since then Hammersmith & Fulham Council's engineers have installed a US$500,000 temperature-control system to keep the bridge at a safe temperature and alleviate any stresses on the pedestals.
The successful operation of the system was a key factor in the decision to allow the bridge to reopen to pedestrians, cyclists and river traffic last July. In effect, it acts as a giant air conditioning unit on each of the four pedestal chains, said the council.
The chains, which are anchored to the river bed, are regulated to be kept under 13°C in the summer. If any of them reach 18°C, safety engineers will shut the bridge.
The Met Office has issued an 'amber alert' this month and temperatures are predicted to hit 34°C in the borough next week. As a result, engineers have been working on an extra package of measures to keep the bridge chains cool.
This includes running the cooling system throughout the night and wrapping the parts of the chains that are above the water level in silver insulation foil, which reflects the sun.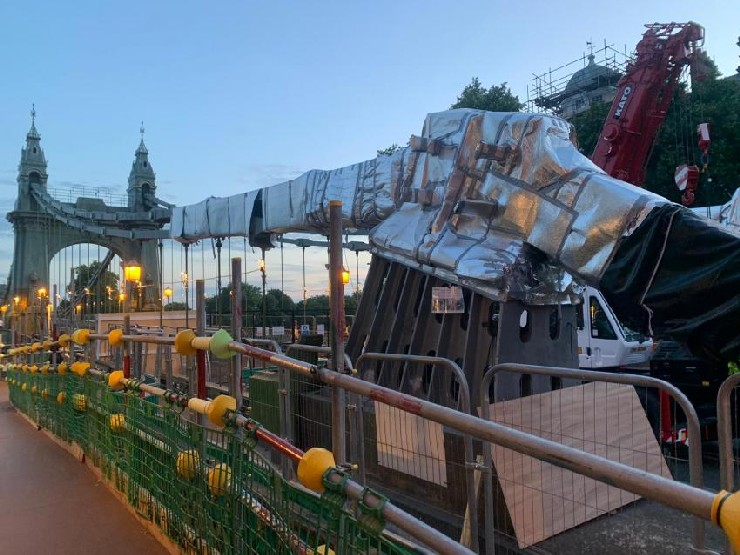 "The safety of the public is our first priority," said Sebastian Springer, Arcadis project manager on the bridge works. "The temperature control system allows us to track weather spikes and maintain a constant temperature. As we deal with the current extreme heat, we are also coming up with innovative solutions to keep the temperature within the threshold."
If temperatures exceed expectations and the temperature threshold is breached, engineers state that the bridge would have to close on public safety grounds. However any closure would likely be only temporary until the heat subsides.
A US$10.6 million package of first-phase work currently taking place on the bridge involves stabilising the micro-fractures in the pedestals to prevent the threat of future closures in extreme high and low temperatures.