Work begun on Wednesday (26 July) on a system to protect the piers of Delaware Memorial Bridge from boat collisions.
The Delaware River Bay Authority (DRBA) commissioned the work as part of ongoing upgrades on the twin-span suspension bridge, which is used by more than 100,000 vehicles daily.
The contractor, R.E. Pierson Construction Company of Pilesgrove Township, NJ, will install eight dolphin cylinders, each with a 24m diameter, filled with sand and stone around the bridge's east and west towers.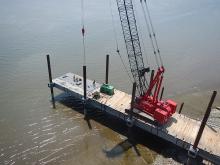 Construction starts on anti-collision upgrades to Delaware Memorial Bridge, USA.
DRBA's executive director Thomas J Cook said of the bridge, which was completed in 1968, "The current bridge tower pier protection systems are original to each span and today's tankers and ships are bigger and faster than those of the 1950s and 1960s. Our goal is to take pre-emptive measures to prevent a commercial vessel from striking one of the bridge towers, which could cause significant damage to the bridge infrastructure and disruptions to interstate travel."
The work will cost almost US$93 million and has been funded by a US Department of Transportation BUILD grant of US$22.25 million. It will be completed in September 2025.