Network Rail and Transport for London (TfL) are urging drivers to understand the size of their vehicles and plan their route to avoid low bridges. 'What the truck' and 'Lorries can't limbo' are two of the straplines for Network Rail's campaign aimed at HGV drivers and haulage companies.
Bridge-bashing reaches a peak at this time of year. Figures from Network Rail show that oversized lorries hit rail bridges on average five times a day over the year but that this rises to about 10 around the end of October. Research suggests this could be due to the hour change and increased deliveries ahead of Christmas. Figures show most bridge strikes happen between 10am and 11am, but remain high all day until around 6pm in the evening and can cause hours of travel chaos.
The most bashed bridge in Britain is currently Stuntney Road Bridge in Ely, Cambridgeshire, which has been hit 113 times since 2009.
Network Rail's research has found that 43% of lorry drivers admit to not knowing the size of their vehicle, 52% admit to not taking low bridges into account when planning their journeys and that, on average, each bridge strike costs US$17,800 and causes two hours of delays to train services
Network Rail chairman Sir Peter Hendy – who drives a double-decker bus – said: Every incident creates potential delay for tens of thousands of passengers and potential costs for taxpayers, and this is happening multiple times a day. It's only a matter of time before road or rail users are killed as a result of this carelessness; we need professional HGV drivers and their operator employers to get behind and support this campaign to eradicate bridge bashing, which reaches epidemic levels at this time of year."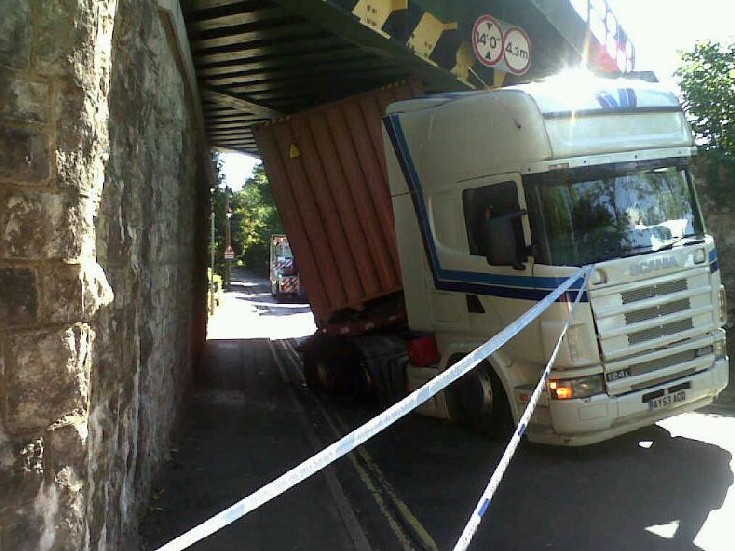 Glynn Barton, director of network management at TfL, said: "Disruption to the transport system caused by a small number of drivers not knowing the heights of their vehicles is completely avoidable. The simple act of checking the height of your vehicle and being vigilant for bridge height road signs will make a huge difference to keeping our roads and railways reliable for everyone."
Network Rail's bridge bash campaign will involve engaging the haulage and public transport industries, fitting protective steel beams on rail bridges where there are a large number of strikes, working with local authorities to ensure road signs displaying bridge heights are correct and calling for stricter enforcement of penalties for drivers when strikes do happen.
David Pickering, chief operating officer at haulage firm Eddie Stobart, said: "As well as carefully planning routes to avoid low bridges, we carry out manual vehicle checks at the beginning of every journey which requires the driver to adjust the trailer height on a measurement in the cab. Additionally, we are installing software early next year which will warn drivers with an audible alarm when they are approaching a bridge. We have also tried some quirky ways of engaging drivers in the issue including our giant giraffe 'Bridget' in our Training Academy which serves as a constant reminder to our drivers of why they need to be bridge aware."