Merivale Rail Bridge – a landmark in the Australian city of Brisbane – is set for its first major overhaul since opening in 1978.
The rail bridge linking South Brisbane to Roma Street stations will be refurbished to extend its life and ensure that it can be maintained into the future.
The Merivale Bridge is one of Brisbane's most recognised structures, spanning 130m across the Brisbane River.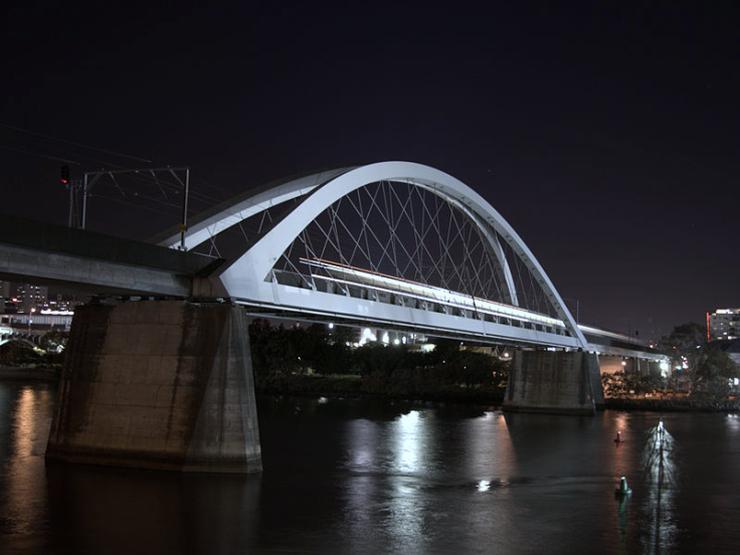 Image by Hendikins
"Brisbane locals who love the bridge design can be assured the overhaul is only about replacing and upgrading the structure, not changing the look of the bridge or the design with the shallow steel-frame structure and suspended steel wire remaining a feature," said minister for transport Stirling Hinchliffe.
He added: "This overhaul is about future-proofing the rail structure and will involve works to prolong the life of the bridge's steel components including decks, cables and arches."
As part of the project, the bridge's wooden sleepers - which have had to be replaced every 10 to 20 years - will be replaced with new, composite sleepers that can last up to 50 years.
Crews will also undertake extensive cleaning and painting to maintain and extend the life of the bridge's steel components – the first time the bridge has been repainted.
A permanent gantry, stair access and a walkway will also be constructed on the bridge, to provide Queensland Rail with improved access for future maintenance.
The bridge will remain operational, without disruptions to train services for the majority of the project, which is expected to be completed by May 2018.