Imagine risking your life just to get to the doctor or to your place of work. Your mother risking her life to visit the market to buy the day's food. Your children risking their lives each morning to get to school. And all because of a river, but one that can become deadly to cross for hours, days, or sometimes weeks at a time - and often unexpectedly. Yet, amazingly, this is the reality for one out of seven people in this world.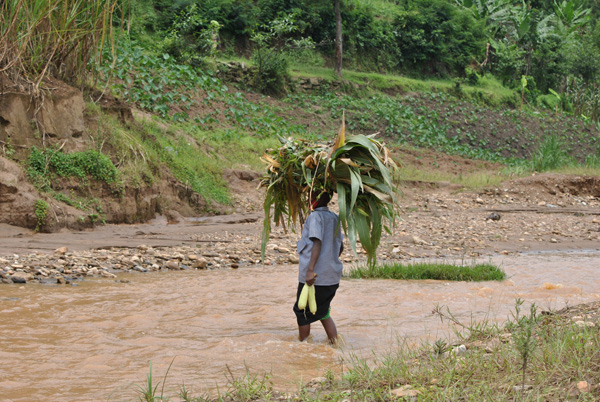 Crossing the Mugunga River
That isolation is a root cause of poverty is widely known, but less understood is that trail bridges are a simple, scalable and sustainable solution.
Trail bridges - comprising pedestrian, bicycle, and motorcycle bridges - connect isolated communities with critical resources and services. They are a cost-efficient and scalable intervention that address a myriad of the symptoms of poverty.
It has been found that trail bridges create dramatic changes in household income for the communities touched by this type of infrastructure. In 2020, our research partners at Yale and the University of Notre Dame published a three-year longitudinal study on the effects of flooding in Nicaraguan communities, comparing those possessing a trail bridge with control communities that didn't. The results were almost unbelievable, even for us.
In communities that benefitted from a trail bridge, it was found that the average labour market income increased by 36% as rural farms became more efficient and jobs became accessible. Furthermore, farm-related profit increased by 75%, and the number of women with access to labour markets increased by 60%. Lastly, the Nicaraguan study showed that the annual return of investment of trail bridges was 20%, meaning that a bridge would pay for itself during the first five years of its life.
Bridge to Prosperity (B2P) envisions a world where poverty caused by rural isolation no longer exists. We work with isolated communities to create access to essential healthcare, education, and economic opportunities by building and promoting the installation of trail bridges over impassable rivers. To do so, we partner with local communities and governments and - to date - we have helped construct 370 bridges that connect over 1.3 million people.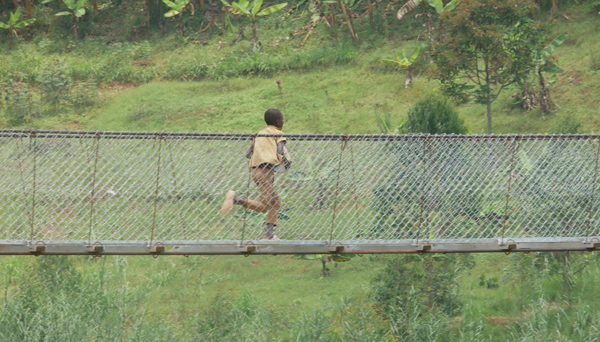 Since 2019, B2P has been working with the government of Rwanda to build trail bridges that will ultimately connect over a million people across the country by 2024 and, at the same time, test the benefits suggested by the Nicaraguan study with a wider randomised control study involving more than 100 communities in Rwanda. Early results from the pilot study confirm the previous findings. You can learn more about these studies here:
So what kind of trail bridges do we build? Let's go a bit technical now. We design and build wire-rope cable bridges, which are characterised by a light walkway system that permits the structure to span across wide valleys. B2P's standard bridges are divided in two principal categories - the suspended bridge and the suspension bridge.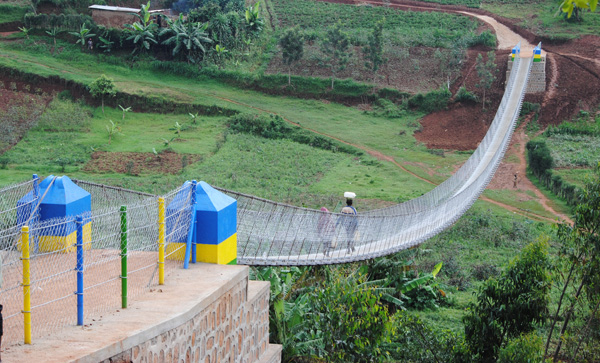 The Nyarusange Suspended Bridge
The suspended bridge is a hammock-type structure commonly seen over those deep, dramatic rocky canyons in adventure movies. In these bridges the walkway hangs from two abutments which include a concrete anchor beam, two concrete towers laying on a foundation system composed by a series of rock-filled tiers, and a ramp connecting the two elements with lateral masonry walls and a central rock-fill. The walkway is composed of steel crossbeams with hangers connected with steel grating panels. A lateral wire-mesh fence is the last touch.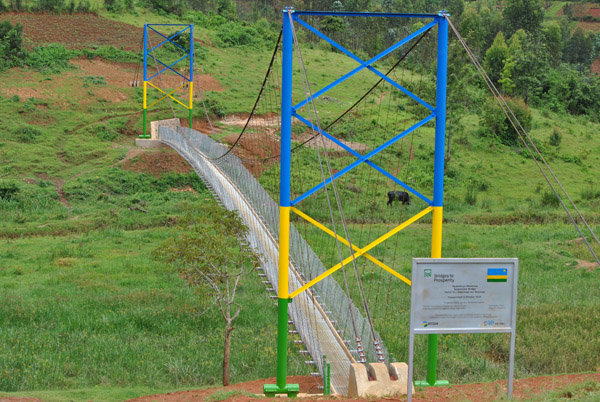 The Nyakabuye Nkomane Suspension Bridge
The suspension bridge is probably the most iconic type of bridge – think the Golden Gate Bridge. Here, the main cables hang from steel towers on a concrete foundation with a concrete dead-man anchor beam in the back. This bridge type is most suited for flatter river profiles that are typical of floodplains. As with the suspended bridge category, the walkway consists of steel crossbeams, hangers connecting to steel grating panels, and a lateral wire-mesh fence.
A core element of any B2P bridge is safety. B2P operates with a 'safety first' mentality that goes beyond construction protocols. In addition to providing full PPE protection to all on-site workers, we also consider health and wellness for non-construction related risks, such as sickness prevention. As a result, when COVID-19 hit, the virus found us prepared.
Uwumugeti Kigusa work site
We quickly updated our safety protocols with COVID preventative measures in line with the national Rwanda requirements. These included social distancing, facemask provision, temperature checks for all people entering the construction site, and hand-washing station installation. Consequently, bridge construction has continued throughout the pandemic without compromising on the safety of our workers or the remote communities they work in.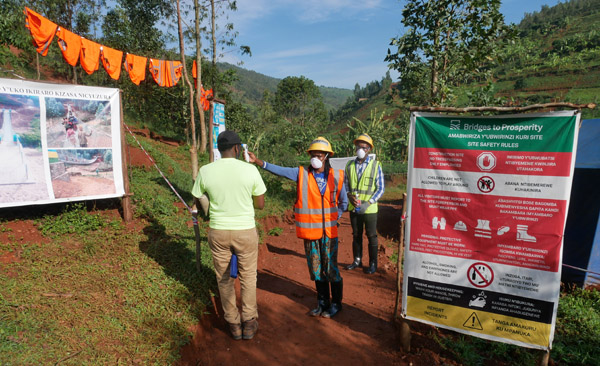 Covid precautions at the Ngoma site
More stories to share with you from East Africa soon, but I need to keep something for the next blog posts. Meanwhile, should you want to learn more about Bridges to Prosperity and/or follow our work in East Africa, here are some useful links:
Facebook: https://www.facebook.com/BridgestoProsperity
Instagram: https://www.instagram.com/bridgestoprosperity/
Twitter: https://twitter.com/B2P
LinkedIn: https://www.linkedin.com/company/bridges-to-prosperity/
Vimeo: https://vimeo.com/bridgestoprosperity
And if you would like more details on how your company can come to East Africa and help build a trail bridge, please visit: https://www.bridgestoprosperity.org/corporate/ or contact me directly on nicolaturrini@bridgestoprosperity.org.
Stay safe and tuned for the next blog post!
Cheers,
Nico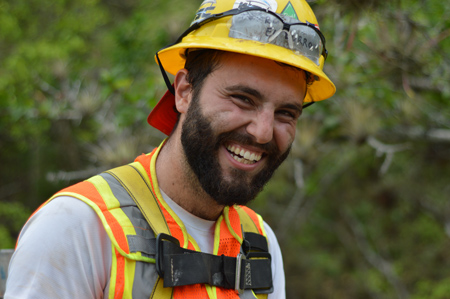 As a structural engineer, Nico has always been interested in bridges. After his studies in Modena (Italy), his engineering career started in Madrid with FHECOR Ingenieros Consultores, and continued in Nicaragua, Scotland and Rwanda with B2P. He has lived in Kigali (Rwanda) since 2018, carrying out the role of engineering manager and, from this year, managing B2P's international corporate partnerships. In his free time, he likes playing music, taking photographs, playing tennis and studying French.