The government is appointing a special negotiator to negotiate with the bridge's current owner - Canadian National Railway (CN) - and other stakeholders. The negotiator will have the mandate to recommend options ranging from a transfer of property of the bridge with an adequate compensation, legislation to see the bridge restored by CN in the near term or other options to achieve the goal of restoration.
Former president and CEO of Québec City-based IA Financial Group Yvon Charest has accepted the role of negotiator. Charest will consult with local communities and other stakeholders and present a final report of recommendations to the government for consideration in 2020.
Québec Bridge is the longest clear-span cantilever bridge of its kind in the world, with a 549m free span between the two central piers.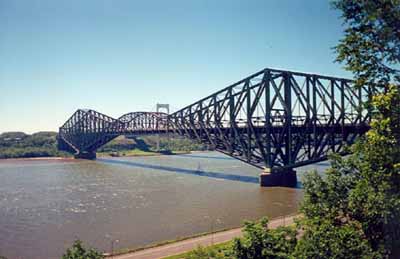 "When people use the Québec Bridge - whether they are driving, cycling, or walking - they are reminded of what's possible when Canadians work hard, and work together," said minister of finance Bill Morneau. "We know how important the bridge is to people in the region, the local economy, and to Canada's economy as a whole. That's why our government is making its full restoration a priority, beginning with the appointment of Yvon Charest as negotiator to recommend a path forward."
"For over 100 years, the Québec Bridge has been the pride of our city and its citizens, in addition to being vital to the economy of our city and our region," said Jean-Yves Duclos, minister of families, children and social development and member of parliament for Québec. "Since 2015, our government has done everything in its power to reach an agreement involving all the parties concerned. We've made every effort to identify a viable solution that would ensure the longevity of this jewel of our architectural heritage. Today, we have taken a major step toward implementing a permanent solution that will enable us to move forward with the work required to restore our Capital's iconic gateway."
National Trust Canada has been campaigning for its restoration. Its campaign page says that it is estimated that 60% of the bridge is covered in corrosive rust. It said that maintenance and restoration programmes for the historic structure have been cut back since the transfer to CN by the federal government in 1993.