The 300m concrete and steel structure was manoeuvred to its final position over the River Wear in north-east England.
The cable-stayed bridge's pylon had been installed last month (link opens in new tab).
The project to build the New Wear Crossing got under way in May 2015. Farrans Construction and Victor Buck Steel Construction formed a partnership to create FVB Joint Venture to deliver the bridge on behalf of Sunderland City Council. FVB JV is being supported by a design team led by Buro Happold Engineering and Roughan & O'Donovan, and independent checker Ramboll.
Stephen McCaffrey, project director for FVB Joint Venture, said: "The bridge deck launch went very well. "It was a substantial structure to move across the river, so it was a very slow and steady operation. The positioning of the deck throughout was crucial as it had to be navigated through the middle of the pylon and then onto each of the temporary supports built in the river to support it.
"We had a team of people guiding it across and scrutinising its progress, as it was planned to the millimetre, but it went as expected, so we are very happy."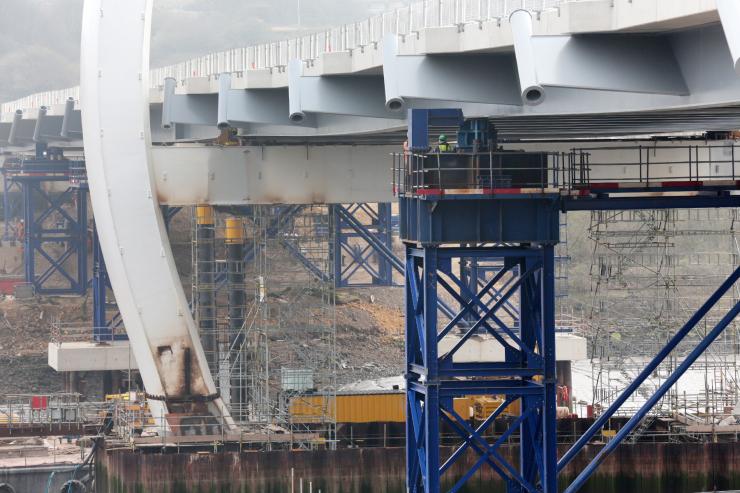 The temporary blue steel nose will be removed from the deck over the coming weeks and the remaining 40m section of bridge deck will be built in-situ on the north side during the summer months.
Scaffolding attached to the top of the pylon will enable the cable stays to be fitted, which will be attached to the deck and gradually stressed to take the weight of the bridge later this year. After that, the blue steel temporary towers supporting the deck will be removed and the final touches, such as lighting, road markings and safety features, will be added.