The work marks the final stage of major improvements underway on the west side of the bridge before contractor Walsh Construction shifts attention next month to the east side of the bridge. The improvements are expected to add decades of new life to the 52-year old bridge.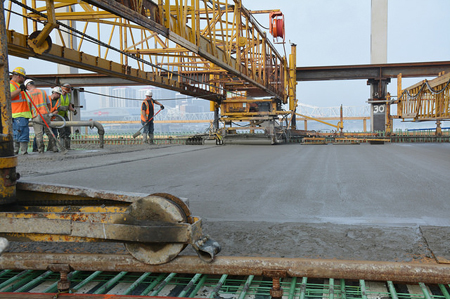 Demolition work started in December, right after I-65 South traffic moved to the new Abraham Lincoln Bridge. Crews removed the old deck and old steel, and have spent the past several months installing new steel on the west side of the bridge.
The new floor system is being built on top of existing floor beams, with all new stringers, bearings and diaphragms the length of the Kennedy Bridge. After putting in new stringers, crews installed stay-in-place metal decking and added reinforcing steel before pouring the concrete.
The final concrete pour on the west side of the bridge is expected in June, which will complete phase one of improvements on the Kennedy. Phase two work will begin in June, with the same steps repeated on the east side of the Kennedy – demolition, removing old steel, adding new steel, installing stay-in-place decking, adding rebar and eventually pouring a new deck. The work on the east side of the Kennedy is expected to continue into October.
A new approach on I-65 South (Indiana approach) is also being built, with complete removal of the existing approach.
The Kennedy Bridge is expected to remain closed to traffic until late October. When it opens in October, it will carry two through lanes of southbound traffic. Access will also be restored from I-65 South to I-64 West, I-64 East and I-71 North.
The Downtown Crossing includes the new Abraham Lincoln Bridge, an improved Kennedy Bridge and interstate connections on both sides of the river. Substantial completion of the entire Downtown Crossing is scheduled for December 2016.