The Upper Orwell Crossings project competition is being run by the Competitions unit of the Royal Institute of British Architects (RIBA) on behalf of Suffolk County Council.
Commitment to fund the US$102 million project was announced in the UK government's March 2016 Budget.
The project is designed to ease traffic congestion in Ipswich by providing a major new crossing of the River Orwell, connecting the waterfront area to the town centre and improving journey times for vehicles, cyclists and pedestrians. Plans include two new crossings near the town's waterfront area, together with the refurbishment of an existing swing bridge across a lock.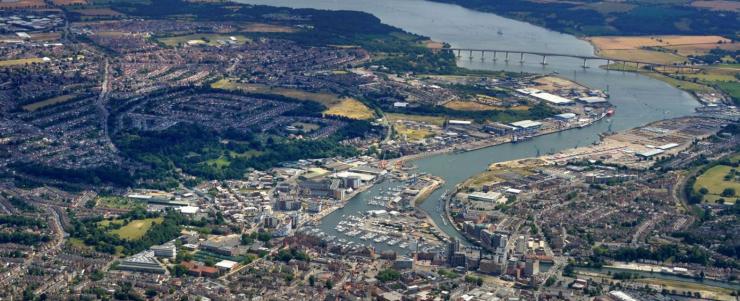 The council is seeking to appoint an architectural team "with experience of collaborating on major infrastructure projects, of working within a multi-disciplinary team environment, and the design of high quality bridge structures to programme and budget". The appointed architectural team will join an existing project team led by WSP Parsons Brinckerhoff, which will be responsible for providing structural and civil engineering input to the project. The intention is that the successful team will be appointed by Suffolk County Council to work alongside the team led by WSP Parsons Brinkerhoff to develop the design proposals.
The project is expected to be delivered under a design and build contract, with the design team novated to the contractor.
The scope of the competition will require shortlisted architectural teams to develop design concepts for the crossings independently of Suffolk County Council and the WSP Parsons Brinckerhoff design team. The organisers suggest that architectural teams may therefore wish to consider engaging other specialist bridge consultants within their team, such as a structural engineer, M&E consultant and/or landscape designer to advise on the development of their concept proposals.
Councillor Guy McGregor said: "We want to open up the design competition to find the most suitable architectural expert team to work with Suffolk County Council in the crucial design of this major project for the county town of Ipswich and Suffolk. We are getting some really positive feedback through our current consultation on this project and we look forward to working with the winning architectural team to realise a design that fits with Ipswich ambitions and continued success in the future."
Each shortlisted architectural team that submits a compliant tender for the competition phase and gives a clarification interview presentation will receive an honorarium payment of £10,000.
The deadline for submission of completed prequalification returns is 1 September 2016.
Further information from www.architecture.com/riba/competitions/enteracompetition/livecompetitions.aspx