The Massachusetts Department of Transportation (MASS DOT) has appointed Modjeski and Masters as primary design consultant on the New Bedford-Fairhaven Bridge reconstruction project to ensure the truss bridge lasts its full 75-year lifespan. Modjeski and Masters will advance the bridge replacement to the 25% design threshold by helping to address the long opening times delaying vehicles, pedestrians and bicyclists; the minimal under-bridge clearance; the narrow navigational channels; the increased risk of vessel impact due to the centre pier's location; and the narrow sidewalks.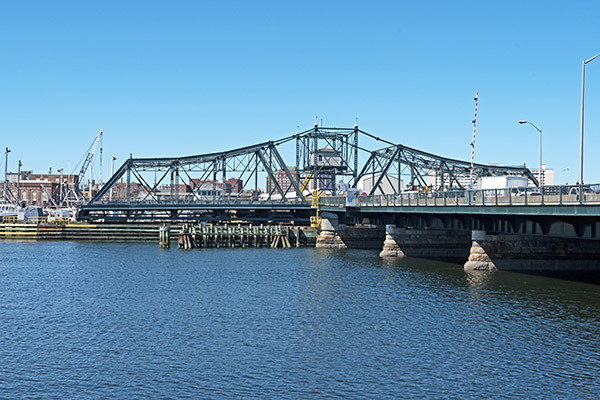 The New Bedford-Fairhaven Bridge in the open position
The swing bridge opens for vessels 5,000 times a year on average while carrying USA Route 6 over the Acushnet River between New Bedford and Fairhaven in Massachusetts. The 120 years-old structure has been troubled by deficiencies and deemed to be functionally obsolete by a 2014 MASS DOT study.
"We are honored and excited to provide key design recommendations for the New Bedford-Fairhaven Bridge," said Thomas Cole, project manager at Modjeski and Masters. "By making some enhancements that will result in shorter wait times and widened pedestrian spaces, we hope to provide a more seamless and enjoyable experience for the thousands of people that travel across it every day."
"We have determined that Modjeski and Masters has the experience, expertise and skill to start work on the preliminary design and public input phase of this important bridge project, which affects not only the road traffic but the efficient operation of the maritime needs in the Port of New Bedford," said highway administrator Jonathan Gulliver.
State funding of US$100 million has been approved for the bridge's design and replacement. Public input and engineering considerations will help decide whether another swing bridge or a different design type will be used for the replacement structure.
The preliminary engineering phase is expected to begin by early 2024 and construction in 2027. A navigational channel will be maintained throughout the duration of the project, as full roadway closures and detours will be necessary during construction.