Suffolk County Council is starting public consultation next month on the design of the opening bridge, which is described as drawing inspiration from the town's wind turbine, 'Gulliver', and is designed to accommodate existing road, rail and waterway operations. Mouchel (now part of WSP) and Kier were appointed by the council in 2015 to identify how to improve north-south connections across Lake Lothing; three locations and options including tunnels and a lock barrage were considered before choosing the preferred solution.
The US$118 million bridge will be required to open to maintain the Port of Lowestoft's operations.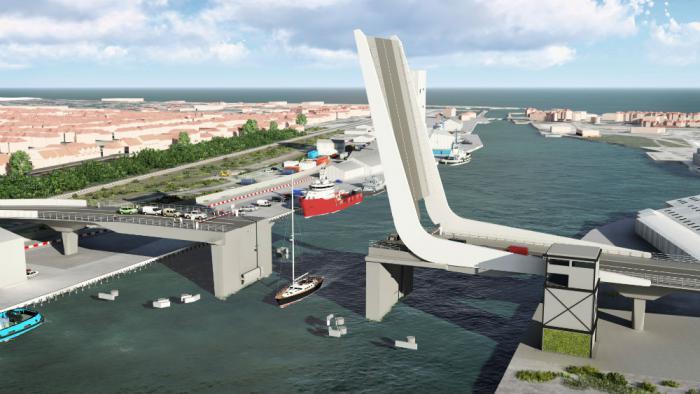 The proposed crossing will be 12m above the high tide levels, which is significantly higher than the existing A47 Bascule Bridge and will enable a larger number of vessels to pass underneath without a need for it to open.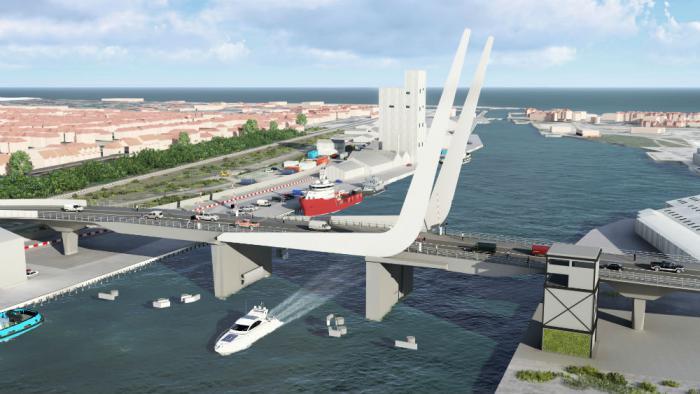 Hydraulic pistons will lift the bridge deck, so that it rolls back on the vertical part of the structure, which contains a counterweight. The bridge will be held at a specific angle to allow vessels to pass through. No decision has yet been made on the location of the control tower.
Councillor Colin Noble, leader of Suffolk County Council, said: "I'm really impressed with the designs and I believe this has the potential to become an iconic structure not only in Suffolk, but across the country."