Schlaich Bergermann Partner (SBP) will now develop a community-informed design for the new pedestrian bridge connecting 4th Street Park and Ralph C Wilson Jr Centennial Park (formerly LaSalle Park).
Its selection as designer was announced by the Imagine LaSalle Project Team supported by the University at Buffalo Regional Institute. Funding was secured last month, by which time the competing entries had been narrowed to four, pictured below (link opens in new tab). Clockwise from top left, the four proposals are by SBP; Arup; Anta Ingeneria Civil, Alfa Polaris and LERA; and SPAN with Maffeis Engineering.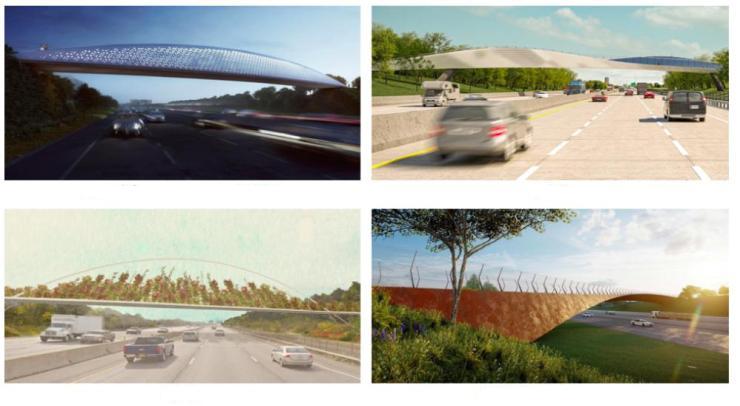 "I congratulate the team at Schlaich Bergermann Partner who will be an important part of the ongoing transformation of Buffalo's waterfront," said New York's lieutenant governor Kathy Hochul.
"The creation of this new pedestrian bridge is a direct response to the community vision to develop an accessible, beautiful and safe connection from the Ralph C Wilson Jr Centennial Park – and in turn our waterfront – to surrounding neighbourhoods," said Robert Shibley, dean of the University of Buffalo's School of Architecture & Planning and a member of the bridge design jury. "The Imagine LaSalle initiative will continue to facilitate conversations between the design team and the community as the pedestrian bridge design concept advances."
Buffalo mayor Byron Brown added: "The location of the pedestrian bridge demands it be much more than a functional link. It must be a one-of-a-kind, iconic pedestrian bridge that delights those passing through, and also sparks a sense of pride in local residents who will see it on a regular basis."
In June 2019, Michael Van Valkenburgh Associates, the City of Buffalo and Buffalo Urban Development Corp invited 10 design firms from around the world to respond to a request for qualifications related to design of the bridge. "Throughout the selection process, the SBP team brought exciting ideas, technical know-how and passion for this bridge design project," said Michael Van Valkenburgh, President and CEO of Michael Van Valkenburgh Associates. "We are ready to roll up our sleeves and work with them."
The SBP team will present a preliminary design and invite the community to provide feedback in early 2020.