The three-pylon cable-stayed bridge in the north-west of England is 2.25km long with a 1km-long cable-supported section. Pylons up to 125m high suppport the main bridge deck, which is constructed from prestressed and reinforced concrete.
The decks of the approach viaducts were constructed using two 1,700t, 157m-long self-propelled launching gantries, enabling construction of a complete 70m-long span in a single pour. On the cable-stayed bridge, six smaller form travellers were used to cast the deck in 6m-long segments in a typical cycle of five days.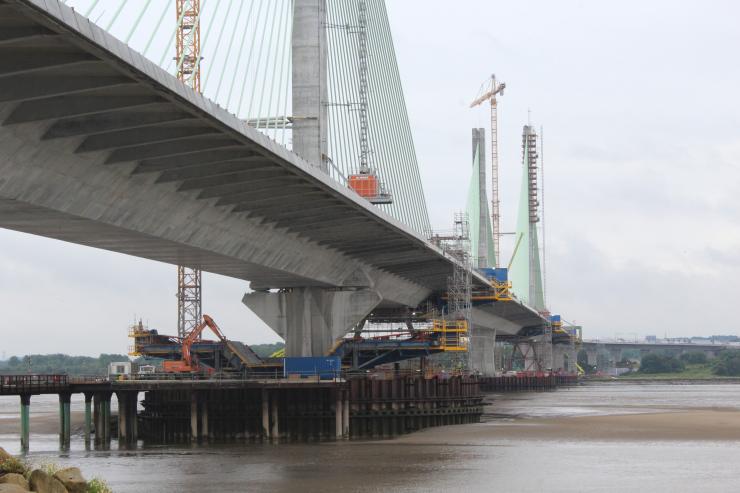 The Merseylink Consortium was appointed by Halton Borough Council as the project company in 2014, on a 30-year contract to design, build, finance and operate the project. The construction joint venture is made up of Kier Infrastructure & Overseas Limited, Samsung C&T Corporation and FCC Construcción. Cowi leads the Mersey Gateway Design Joint Venture, which was engaged by the Merseylink Civil Contractors Joint Venture to deliver the design of the US$2.45 billion scheme, which is due to open this autumn.
Local schoolchildren Mia Lloyd-Bell and Candice Steadman from All Saints Primary School in Runcorn visited the site last week to cut a ribbon marking the completion of the penultimate segment.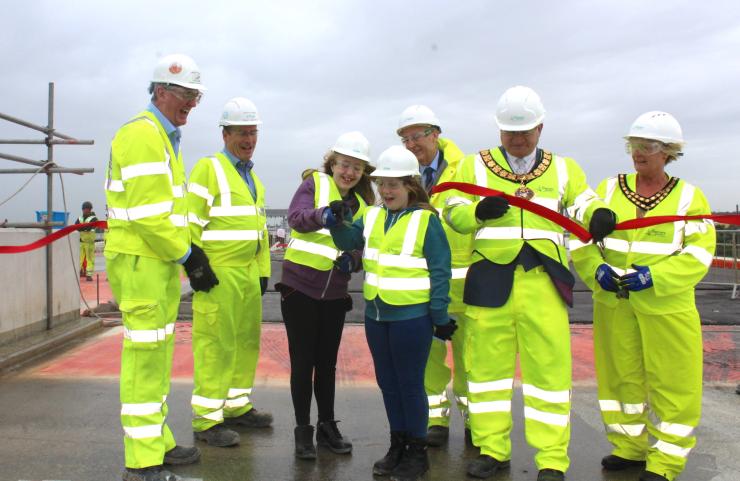 A competition had been run in which children from local schools were asked to what the bridge meant to them, and to create an artwork that embodied their interest in the new bridge.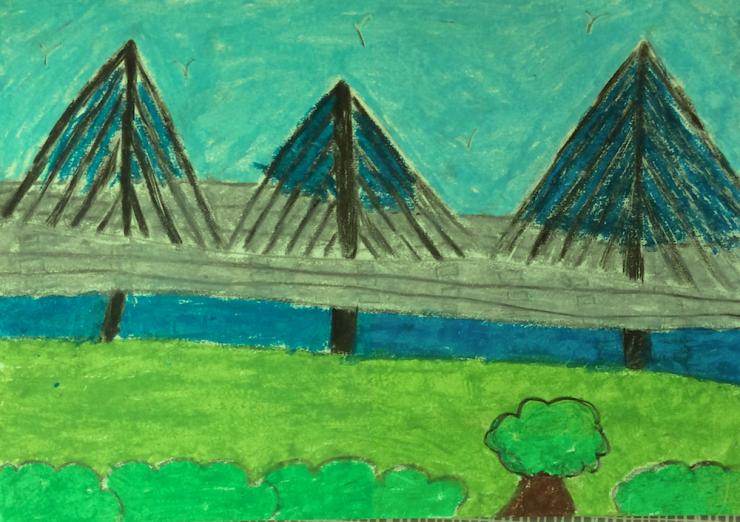 Andrew Bainbridge, assistant headteacher at All Saints School said: "Being able to bring our pupils to the bridge deck for such an historic occasion is an event that will stay in these children's memories for a long, long time," he said. "During the past few years they have watched in awe as the bridge has been built up out of the riverbed. It has been a massive source of inspiration for them, and will be for many years to come. Many of our children tell us they want to become civil engineers and architects."