The competition was sparked by overcrowding of the promenade at peak hours. Prior to the Covid-19 pandemic, thousands of pedestrians and cyclists were crossing the bridge every day.
In response to the conditions, New York City Council and the Van Alen Institute launched Reimagining Brooklyn Bridge, an international design competition. The organisers said that Brooklyn Bridge has the potential to serve as a testing ground for designs of streets and shared spaces. "The six finalist proposals are a compelling and optimistic set of ideas for responsive short-term interventions and longer-term, large-scale reconfigurations of the Brooklyn Bridge," they said.
The competition has two categories. In the professional category there are three finalists, 22 years of age and older. Each finalist will receive US$13,000. In the young adults category, each of the three finalists – aged 21 years of age or under - will receive US$3,000.
The competition's finalists were selected by an interdisciplinary jury. The jury considered a number of factors: team composition; accessibility and safety; environmental benefit and security; respect for the bridge's landmark status; feasibility; and 'magic' – "new ideas that surprise, delight and fascinate".
The finalist teams are now working with Van Alen, the New York City Council, local stakeholders and civic institutions to refine their proposals before a virtual 'design showdown' on 23 July. Finalists will present their full proposal and the public and the competition jury will have the chance to offer feedback and criticism. Online voting will be live from 23 July to 30 July.
The three finalists in the professional category are below.
The entry 'Back to the Future' (below), which is by Big and Arup, is described as seeking: "to return the bridge to its original state, both architecturally and functionally, and pilots innovations in autonomous mobility and public space design. By removing cars and related ramps, and providing more space for pedestrians, bikes and transit, this proposal moves more people and creates a stronger connection between Downtown Brooklyn, Lower Manhattan, and beyond."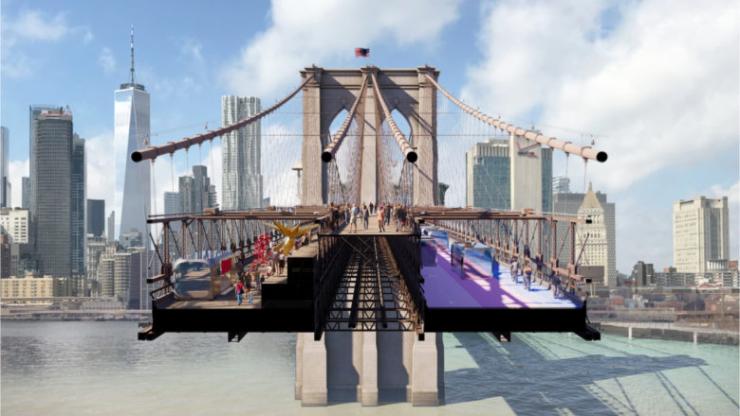 The Bridge X entry (below) by ScenesLab, Minzi Long and Andrew Nash "proposes a Brooklyn Bridge that evolves in response to public feedback and adapts from a pandemic to a post-pandemic era. Through a phased approach, Bridge X reimagines the upper and lower decks to reclaim space for greater pedestrian and cyclist access, to make room for vendors and small businesses, and to offer new modes of engagement with the bridge. Digital tools and design interventions enable visitors to more easily access, explore, and reflect on their experiences of the bridge."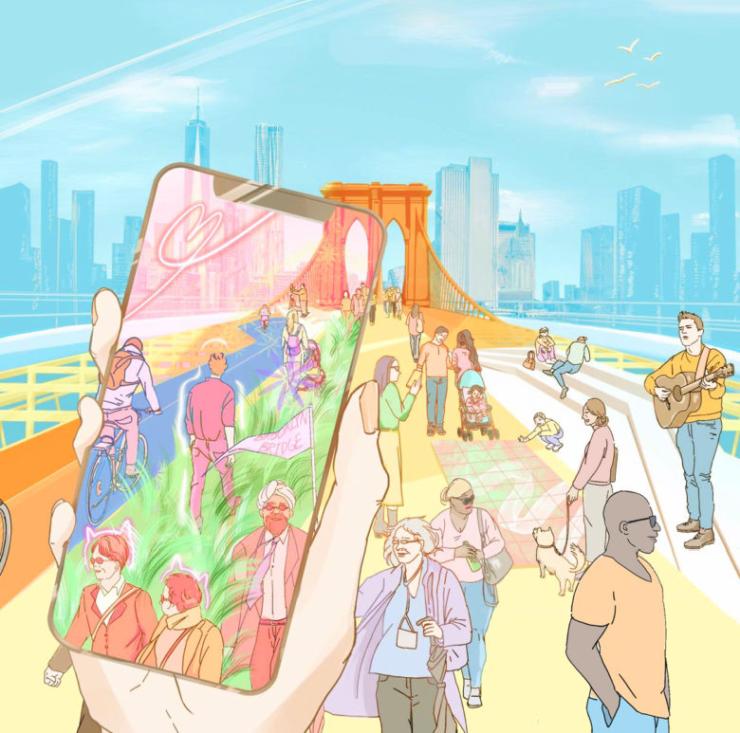 The entry Brooklyn Bridge Forest (below) is led by Scott Francisco of the Pilot Projects Design Collective. The entry is described as improving mobility "while respecting the landmark structure. The historic wooden walkway is expanded using planks sustainably sourced from a partner community in Guatemala that protects a 200,000-acre rainforest. A dedicated bike path and reclaimed traffic lane create new space for cyclists and low-carbon transit, while biodiverse 'microforests' at either end of the bridge serve as green spaces."