Construction crews from Skanska USA Civil Southeast have lifted the arch into place atop what will become the eastbound structure of the new crossing.
Each 114m-long, 25m-high arch weighs about 360t. They will provide structural support for the multi-use paths that will be part of both the east and westbound bridges.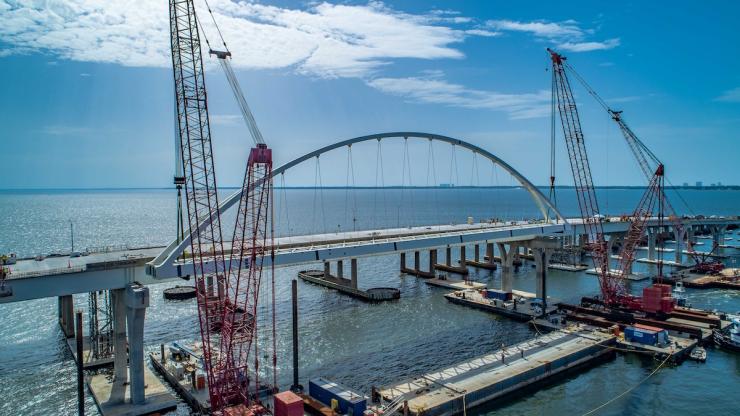 The arches consist of structural steel plates that were cut to shape and welded together. The strands that extend from the top of the arch to the bottom deck are made of high-strength steel and covered by a protective sheath. The strands were fabricated in Arkansas, and before arriving in Pensacola they were shipped to Slovakia to apply a wax and high-density polyethylene coating to protect them from the corrosive elements of the coastal environment.
With the first arch lifted into place, work will continue to complete the eventual eastbound bridge. Later this summer, two lanes of east and westbound traffic will be shifted from the current bridge to the eventual eastbound structure to allow the existing bridge to be demolished and the new westbound structure to be completed.
Final completion for the new Pensacola Bay Bridge, including the reconstruction of the adjacent 17th Avenue interchange, is currently estimated for mid-2021.