Moxon Architects, working with engineer Arup, has designed the bridge over the Regent's Canal for King's Cross Central Limited Partnership.
Granary Square Bridge will link Pancras Square with a new shopping and dining district in Coal Drops Yard.
It replaces a bridge constructed in about 1821 in the same position on the canal and which was used to transport coal to the goods yard. The original bridge was taken down in the 1920s, when rail freight went into decline and it was no longer needed for transportation purposes.
The new 25m-long bridge takes inspiration from lost railway bridges across the canal including its predecessor.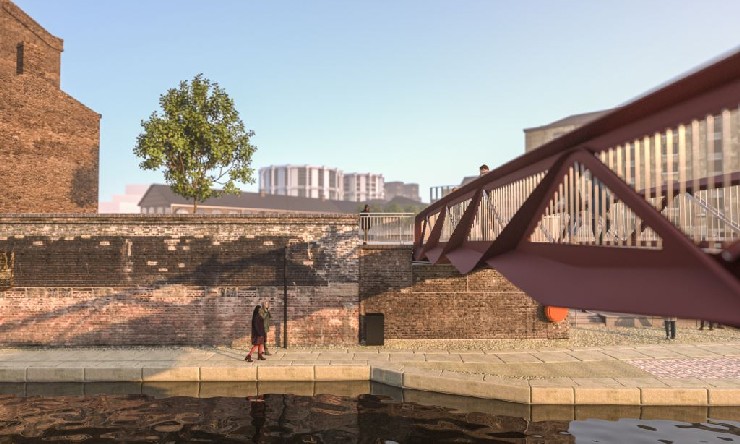 It will be made primarily of painted carbon steel in a truss form. Components have been optimised to express their alternately compressive and tensile load requirements. Nodal connections have been designed to create smoothly sculpted transitions between elements. The design team said that the repetitive modular form creates a seemingly complex assembly out of a series of simple cells.
Stone paving between the twin trusses will extend from the adjacent plaza to the north to provide the structure with mass and a sense of solidity.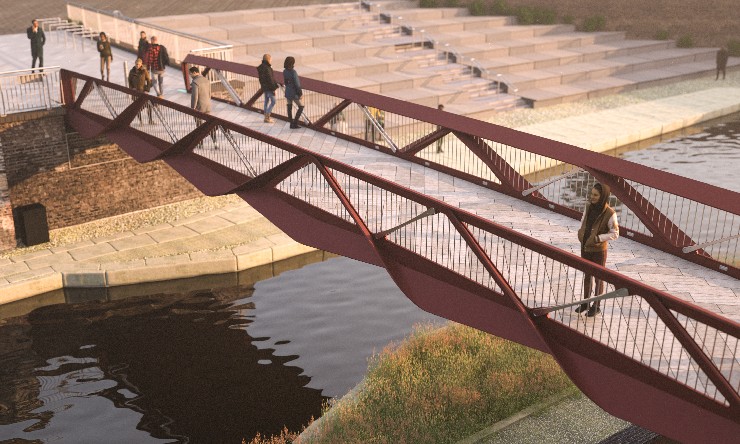 The integrated lighting has been tuned for minimal impact on the canal and sky while providing safe levels of light as well as visual interest.
For special events, the colours can be changed to bring the bridge to life while complementing the lighting of the nearby Coal Office and Coal Drops Yard. During live events the bridge will serve as a balcony, creating a new vantage point for the canal below and the seasonal activities on the adjacent Granary Square steps.
The bridge is the second at King's Cross to be designed by Moxon Architects, following the Somers Town Bridge.
King's Cross Central Limited Partnership partner Will Colthorpe said: "Not only does this bridge reimagine another important piece of industrial heritage at King's Cross, it will also be a fantastic asset, connecting the offices, bars and restaurants of Pancras Square with the shops and eateries of Coal Drops Yard – bringing two much loved areas together. We are thrilled that the new bridge has received planning permission."