The governments of Bhutan and India jointly opened a new bridge that was completed well ahead of schedule.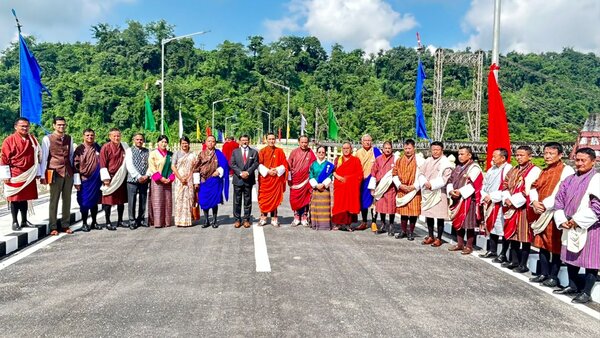 Officials from India and Bhutan at the opening of the Diana Kuenphen Zam. Image from Royal Government of Bhutan
The Diana Kuenphen Zam opened on Saturday, months ahead of its original completion date. It is a 280m multi-span prestressed concrete I-girder construction. It is located in in Norbugang, Samtse in the south of the country near the border with India on the Samtse-Tashichhoeling Secondary National Highway.
The bridge has a capacity of 70 tonnes and replaces a 300m bailey bridge, which was operating with a reduced capacity. Local sources describe heavy vehicles forced to drive through the river.
The Bhutanese Ministry of Infrastructure and Transport oversaw the construction work by Bhutanese company Rigsar. The Government of India funded the project's US$2.6 million budget.