The last of the 98 steel support girders for the new bridge's second parallel structure was lifted and bolted into place last week. The second structure is immediately downstream of the first, which opened to traffic in July 2019. When the fully completed, the upstream span will carry Pennsylvania-bound traffic and the downstream span will carry New Jersey-bound traffic.
The project is on the cusp of reaching the 90%-completed mark by the end of this month and achieving substantial completion in December, the Delaware River Joint Toll Bridge Commission (DRJTBC) announced.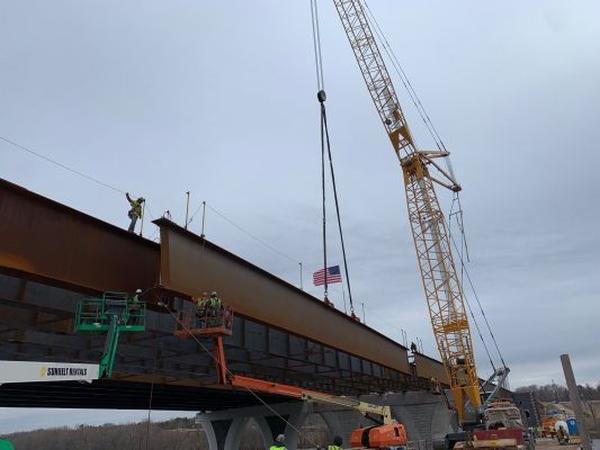 Girder erection for the second bridge structure started on New Jersey side, taking place from late May to late June 2020. With the completion of supporting substructures on the Pennsylvania side later in the year, girder erection resumed in early December and continued, with brief interruptions, until mid-March.
The girder sizes averaged 3m high and 41m long, and weighed approximately 54.5 tonnes. Like the already-operational upstream bridge, a total of 98 individual girders were used in the construction of the adjacent downstream span.
Each of the dual bridges – they are not identical twins - has seven continuous steel-beam lines made up of 14 individual girder sections that were lifted by crane and bolted together atop the supporting masonry substructures. The use of multiple steel beam lines has been designed to provide redundancy, a critical strength and structural safety feature missing in the former 59-year-old, functionally obsolete Scudder Falls Bridge – now completely dismantled.