The proposed arced delta frame replacement for Commercial Street Bridge will be erected just south of the existing structure on temporary foundations and will be slid onto the existing alignment once demolition of the existing bridge has taken place.
PennDOT is working with the Federal Highway Administration (FHWA) on the project, which carries a section of the I-376 highway. HDR is the team's consultant.
The bridge was completed 70 years ago and widened during a rehabilitation project in 1980. A further rehabilitation in 2007 included concrete substructure repairs and joint replacements. Additional repairs were carried out in 2012, including strengthening work.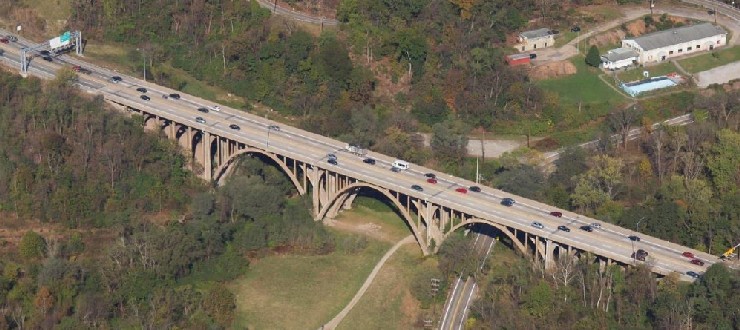 The bridge's current problems include spalled concrete and cracking. The condition of the deck, floor system and arch spandrel columns prevent the structure from carrying large or oversize vehicles.
A study in 2019 estimated that the approach of sliding in the new structure would require a full closure of the I-376 for approximately two weeks. The other approach being considered at the time involved staged construction, with the new bridge built in three partial-width steps.