The Dutch city of Delft will this week officially open a new cycle route which incorporates a bridge designed by Rafail Gkaidatzis as the winning entry in a design competition for TU Delft architecture students. The designers say it is dubbed the Symbiobrug as a reflection of the interaction between nature and technology that it represents.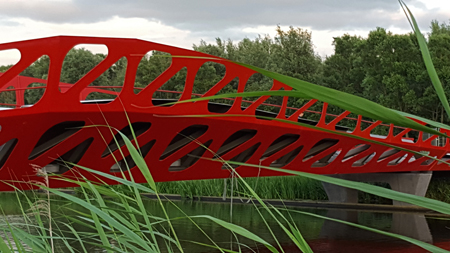 The bridge is on a new cycle route that was created between the Technopolis Science Park (Thijssenweg) and the Ackerdijkse Bos recreational area in the countryside of Midden-Delfland. The bridge crosses the 35m-wide Karitaatmolensloot canal on the southern fringe of Delft.
The shell-shaped steel truss with its rounded corners is intended to mimic organic forms found in nature, such as a bone, a leaf or a cell. The innovation and knowledge found in the Science Park Technopolis, to the north of the bridge, are represented by the FRP deck, the shape of which changes across the length of the bridge, reflecting the rapid change of technological evolution. Areas for sitting and resting are incorporated into the deck and its continuous parapets.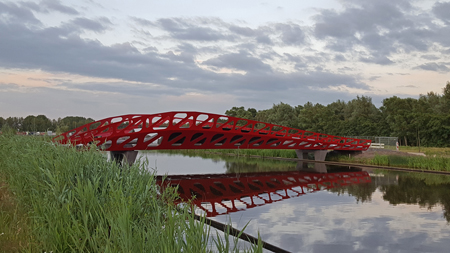 The cycle route project linking Ackerdijkse Bos and TU Delft was funded by the Province of Zuid-Holland, the City of Delft and the Midden-Delfland recreational amenities board.