The project, which is located on the west coast outside Bergen, is currently the largest public-private partnership (PPP) road tender in the European Economic Area, according to Norwegian Public Roads Administration. When the deal is signed, it will be Norway's largest individual contract to date within the transport and communications sector.
Three teams are bidding for the project. The next major milestone will be the receipt of initial bids on 18 December, followed by a negotiation phase, with subsequent adjustments of the bids through the spring of 2021. The aim is for work on site to begin in late autumn 2021.
The Rv 555 Sotra Connection road system consists of new four-lane motorway with separate lanes for public transport, pedestrians and cycles. The project includes 9km of four-lane highway, a new Sotra Bridge, 38 smaller bridges and other structures.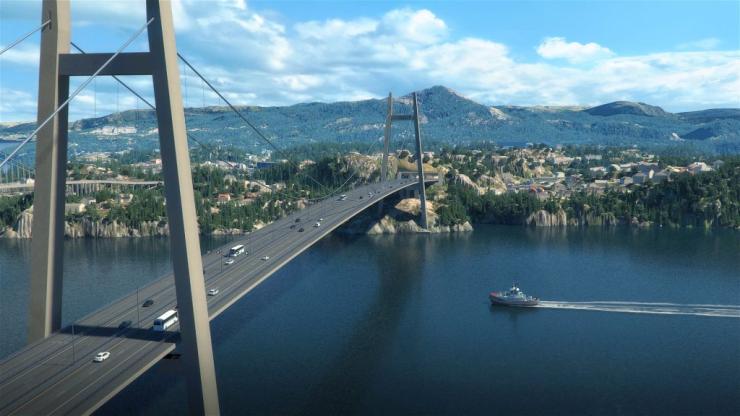 Above: ilustration by Baezeni
Preparatory work and the procurement process for the PPP contract have been ongoing throughout the summer and autumn, using digital methods because of the Covid-19 situation.
Arve Tjønn Rinde, Norwegian Public Roads Administration's project manager for the Sotra connection, said that the process has been very efficient. The project has carried out all meetings without any need to travel, which in itself saves time. The use of digital methods has made it possible to involve all parties, regardless of where they are in the world.
"The competing PPP companies have all presented great solutions that will give us more value for money," said Rinde.
He added: "As we approach the contract signing phase, the PPP companies will begin to mobilise labour for the project. On this issue, we know that the PPP companies have ensured the support of Norwegian and local consultants, contractors, and suppliers of goods and services."