Under the new proposal, access will be provided via an existing walkway under the south approach span and a new steel walkway positioned discreetly within the top member of the southern suspended span. Visitors in groups of up to 15 will set off from a new hub building near Hawes Brae and will be hooked on to the bridge using a harness and continuous safety line.
The bridge walk is expected to be operated under a management contract on behalf of Network Rail. The costs of developing the walkway, building and access are estimated at US$12.5 million.
The plans are a revised version of proposals first developed in 2013. The original plans had included a visitor centre and viewing platform in North Queensferry as well as a facility at the southern side.
Funding considerations have encouraged initially taking forward a leaner, more focused bridge walk project with the potential to develop the business further in the future. "We have explored numerous options over the last two years to take forward our visitor proposals," said David Dickson, infrastructure director of the ScotRail Alliance, which includes Network Rail. "However, after reviewing the business case we have chosen to focus, at least initially, on the bridge walk option. This requires a lower upfront capital investment and offers a quicker rate of return."
Network Rail expects to attract 80,000 visitors a year to climb the 127-year-old bridge from the South Queensferry end of the structure.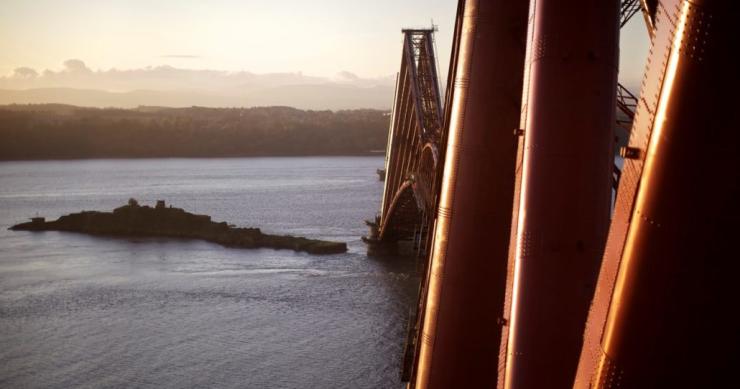 The bridge walk hub will be located just 250m from Dalmeny station. "While we will have sufficient parking on site to meet customer needs, we want to encourage visitors to enjoy the convenience of access by rail and will be looking to incentivise that within our management of the facility," Dickson added.
A public consultation on the proposed development is expected to begin this summer. Planning permission will be sought following the conclusion of the consultation. Listed building consent will be required as well as close consultation with heritage experts and world heritage officials.
"The Forth Bridge is one of Scotland's most loved structures and our plans reflect that," said Dickson. "The access gantry we are proposing will be almost invisible from the shore and fully reversible should we wish to remove it in the future.
"What we must not forget is that the Forth Bridge is a working structure that has always required maintenance and that will continue. What we're proposing will simply allow us to invite visitors to learn about the history of a structure that, in the past, has only ever been accessible by a lucky few railway workers."