The inspection report said that there were significant deficiencies in the drainage system of Puente Nuevo's deck, with water leaking through the masonry. In addition, leakages were also found in the utility piping carrying potable water and wastewater across the structure.
Puente Nuevo crosses the Guadalevín River across El Tajo Gorge in the town of Ronda, southern Spain, around 80km west of Malaga.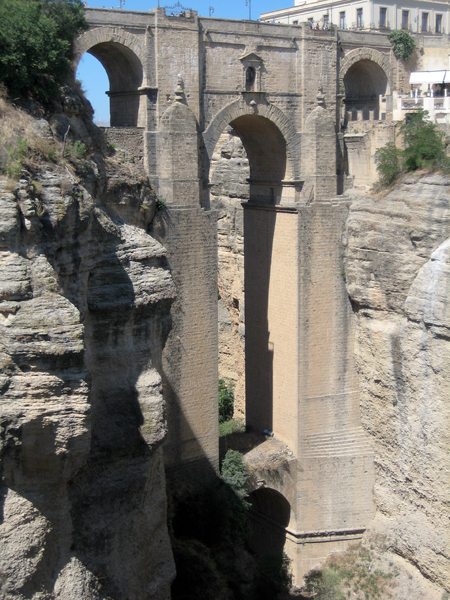 Picture: Wikipedia, Judas6000
The 66m-long, 98m-high masonry bridge has three spans and was completed in 1793. Unusually, the bridge includes a chamber above the central arch that was used for a variety of purposes including as a torture chamber and prison.
The report by the Geological and Mining Institute of Spain was released this week by the Delegation of Traffic and Historic Patrimony of the town of Ronda.
Following slight subsidence on the Puente Nuevo's approach on the Santo Domingo Convent side, provisional traffic restrictions were under consideration by the local authorities.
According to the report, the bridge's condition was being adversely affected by the high volume of vehicular traffic as well as by the lack of conservation and maintenance programmes for the structure, which is considered as the 'jewel in the crown' of the historic town.
Nevertheless the inspectors found no structural damage and concluded that, in general, the bridge was in a robust condition.
Programmes of regular inspection, maintenance and conservation have been recommended in addition to potential water proofing of the deck, as well as other water management and leakage measures.
Besides considering the implementation of possible traffic restrictions, the report also recommended a traffic and load analysis on the basis that the last such study was conducted in 2008.