The 1,341m-long Beipanjiang Bridge has a clearance of 565m over the river below. It takes the record from the Sidu River Bridge in Hubei province.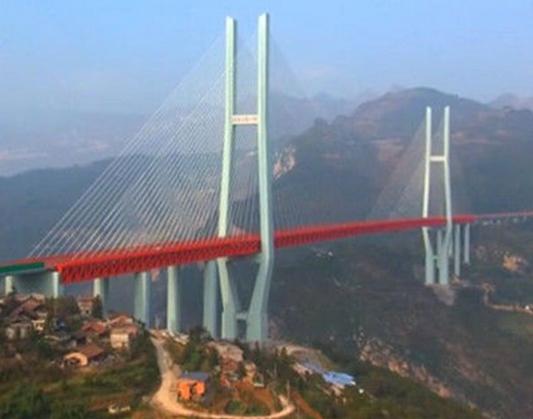 The new bridge is expected to shorten the travel time between Liupanshui in Guizhou and Xuanwei in Yunnan to less than two hours from five in the past. It is part of an extensive highway linking Hangzhou city in eastern China's Zhejiang province to Ruili city in Yunnan. Construction of the bridge began in 2013 and has cost about US$143m.
"Many institutes, including Jiaotong University, Guizhou Highway engineering group, and the Guizhou office of transportation joined together to conduct research and development," said project director Zhou Ping. "We developed a new kind of technology called cantilever erection by longitudinal launching, and this significantly shortened construction time."
CCCC Highways Consultants deputy chief engineer Liu Bo said that the bridge presented many challenges, including windy conditions and where to build the piers.