The milestone was reached this week almost exactly two years after construction of the main span began. Crews lifted and connected into place the last major steel floor beam for the bridge at the Port of Long Beach.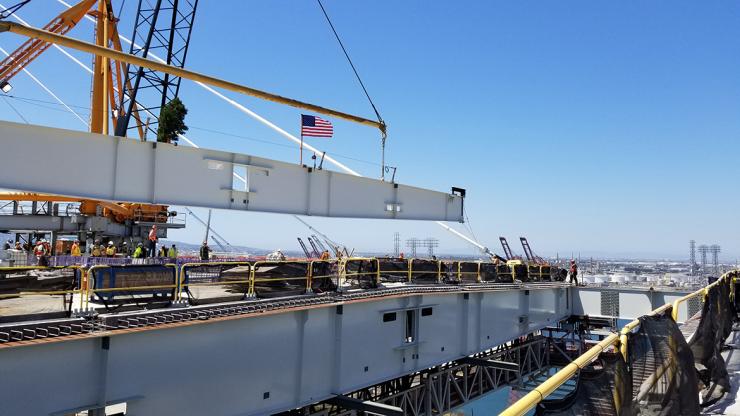 The new bridge - California's first cable-stayed bridge for vehicles - is expected to open later this year. Remaining tasks include post-tensioning of horizontal cables to increase the strength of the concrete deck, constructing a bike-pedestrian path on the ocean-facing side of the bridge and further calibration and tensioning of the 80 cables holding the deck.
Assembling the main span over the Port's Back Channel has been one of the most complex endeavours of the project. The process began in April 2018 when the initial sections were attached with the first set of cables to the two 157m-tall towers. The US$1.47bn project to replace the current Gerald Desmond Bridge began in 2013 following the award of the contract in 2012 (link opens in new tab).
Each floor beam is about 42.5m long and 3m tall and is connected to edge girders with more than 200 bolts. Once a section of floor beams is bolted together, crews attach it to the tower with cables, then place precast concrete road deck panels. In total, there are 117 floor beams that support a main span that rises 62.5m over the water.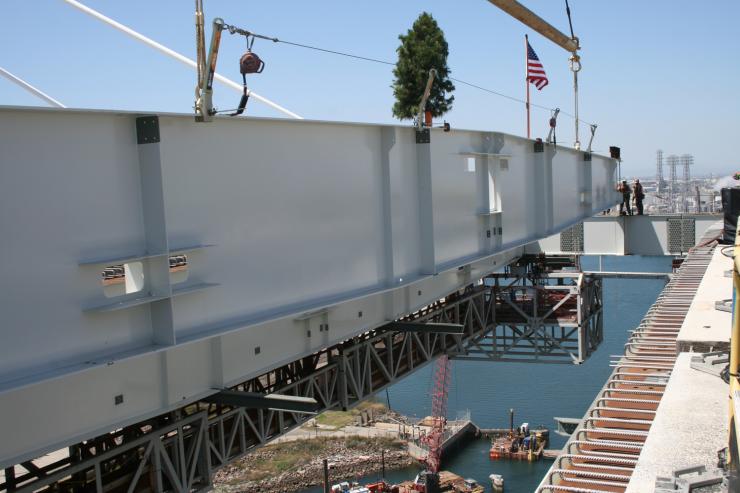 The new bridge will provide higher clearance for cargo ships, extra traffic lanes for trucks and cars, greater resiliency in an earthquake and a 100-year minimum lifespan.