Six teams had been shortlisted in September and invited to create concept design lighting schemes for four bridges – Westminster, Waterloo, London and Chelsea – along with a design masterplan for the 17 bridges between Albert and Tower (link opens in new tab).
The six finalists in the Illuminated River competition represent 73 artists, architects, designers, planners and engineers Asia, Europe, North America and South America. Their proposals for a selection of the bridges covered by the competition will go on display on Wednesday 9 November in the a free exhibition running until 29 November at the Royal Festival Hall.
The Illuminated River International Design Competition, organised by Malcolm Reading Consultants, attracted entries from 105 teams. The shortlist of six teams has been selected by an independent panel. The winning team will be chosen by a jury supported by a technical advisory panel and announced on Thursday 8 December.
With the first phase of the fundraising campaign already under way, it was announced today that US$12.5 million has been pledged towards the Illuminated River project: US$6.25 million by Peter Baldwin and Lisbet Rausing through the Arcadia Fund, and a further US$6.25 million is being donated by the Rothschild Foundation.
Hannah Rothschild, chair of the Illuminated River Foundation, said: "Since the founding of London, the mighty Thames has been the city's main artery, linking north and south, east and west, encouraging business, activity and recreation. But at night, the river becomes a ribbon of darkness, a place that few enjoy and at odds with the ambition to make London a 24-hour city. This project will bring light, energy, beauty and recreation to the river and at the flick of a switch, transform the city at night."
Mayor of London Sadiq Khan added: "I am delighted that the Illuminated River Foundation has put these ideas on show. We believe that the Illuminated River will not only be a wonderful celebration of the River Thames, London's vital artery, but will make a major contribution to the growing importance of London's night-time economy, underlining London as a world class city, and a centre for creative industries."
The shortlisted teams are listed below. Further images are available on the competition website and at the exhibition People are being invited to share their views on the project via a survey at the exhibition and at www.illuminatedriver.london
Blurring Boundaries
Adjaye Associates with Cai Guo-Qiang, Chris Ofili, Larry Bell, Jeremy Deller, Philippe Parreno, Richard Woods, Mariko Mori, Lorna Simpson, Teresita Fernández, Joana Vasconcelos, Angela Bulloch, Thukral & Tagra, Katharina Grosse, Glenn Ligon, Doug Aitken, Tomás Saraceno, onedotzero digital consultants, Plan A Consultants, DHA, Hurley Palmer Flatt, AKT II, Aecom, Arup, Sir Robert McAlpine, Tavernor Consultancy, DP9, Four Communications, Hayes Davidson digital visualisers, Bosch and iGuzzini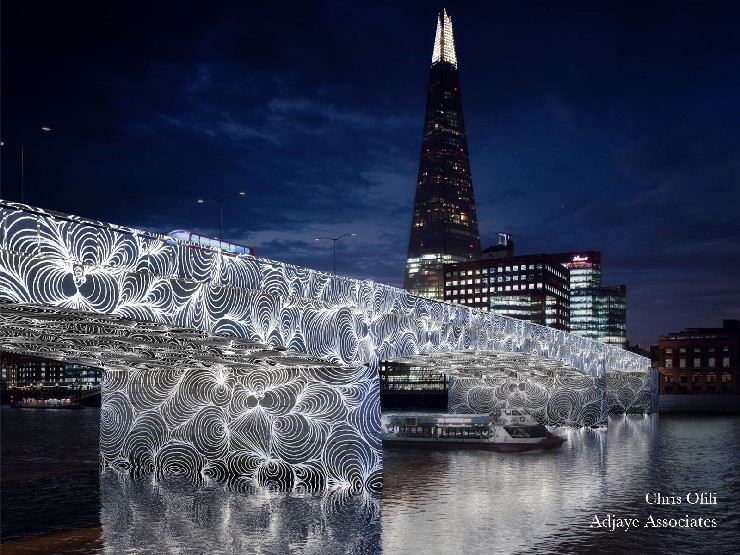 The Eternal Story of the River Thames
AL_A, Asif Kapadia, Simon Stephens, SEAM Design, Arup, Gross. Max., Mark Filip, Soundings and DP9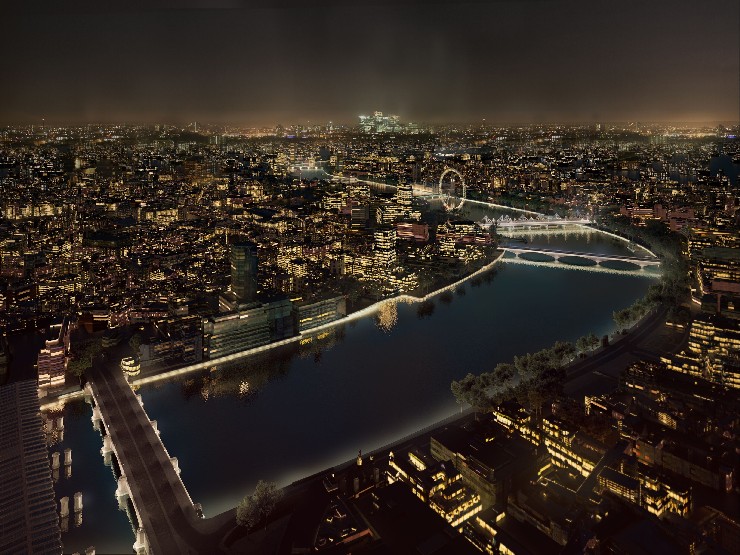 Synchronizing the City: Its Natural and Urban Rhythms
Diller Scofidio + Renfro with Oliver Beer, Arup, Copper Consultancy, L'Observatoire International, Penoyre & Prasad, Jennifer Tipton and Transsolar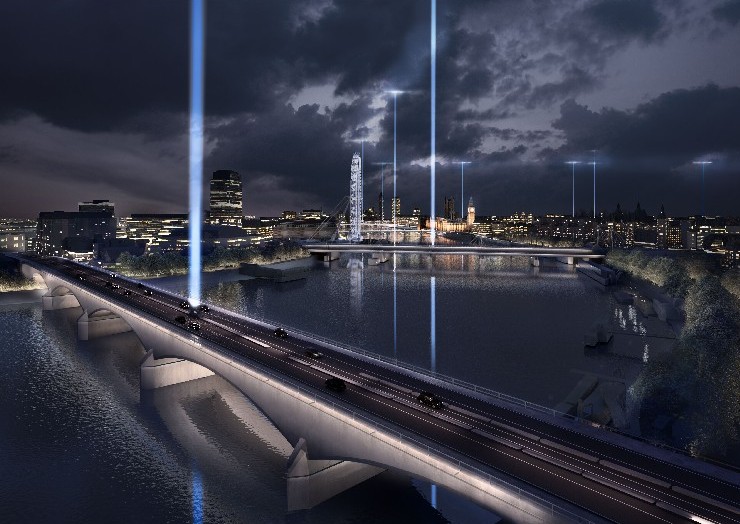 Current
Leo Villareal with Lifschutz Davidson Sandilands and Future\Pace, Atelier Ten, Beckett Rankine, Bradley Hemmings, Core Five, Futurecity, Greenwich+Docklands International Festival, MBNA Thames Clippers, Montagu Evans, Pentagram, Price & Myers
A River Ain't Too Much To Light
Les Éclairagistes Associés (L.E.A.), ecqi ltd and Federico Pietrella in association with GVA Lighting Europe Limited and ewo srl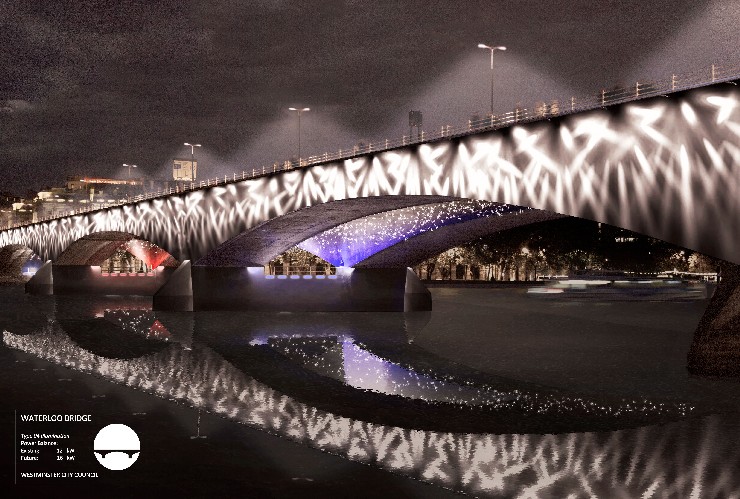 Thames Nocturne
Sam Jacob Studio and Simon Heijdens with Studio Dekka, Daisy Froud, Elliott Wood, Jackson Coles and Professor John Tyrer