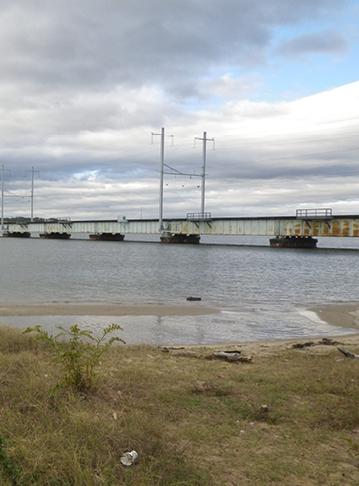 The project will replace a 112-year-old swing-span bridge that carries NJ Transit's North Jersey Coast Line trains over the Raritan River between Perth Amboy and South Amboy.
The current bridge suffered damage during Superstorm Sandy, and has experienced recurring maintenance issues.
A US$250 million contract for the initial construction phase was awarded in May to George Harms Construction.
The new bridge has been designed to integrate resilient structural features and materials to withstand future storm surges and be significantly less vulnerable to severe weather events.
"The new lift span bridge over the Raritan River will sit higher above the water and is a more reliable design than the existing swing bridge that was built in 1908," said Department of Transportation Commissioner and NJ Transit chair Diane Gutierrez-Scaccetti. "It will be able to weather storms better and require less maintenance, meaning more reliable service for the customers that take the North Jersey Coast Line between the Shore and Manhattan."
The cost of the replacement project is estimated at US$595 million, with US$446 million paid for through a Federal Transit Administration grant.