A new 2,000t rail bridge has been slid into place as part of work on the A6 to Manchester Airport relief project in north west England.
The single span plate girder bridge will carry the railway line over the new road. It has been built using weathering steel for the main beams with reinforced concrete for the deck to reduce future maintenance costs.
The bridge is the largest single structure of the 12 bridges along the 10km relief road route. The US$397 million road is a joint venture between Stockport Council, Manchester City Council and Cheshire East Council with contractors Carillion Morgan Sindall (CMS).
The bridge has been assembled on site over recent months alongside the A6 in Hazel Grove. The Easter weekend saw contractors working around the clock to remove 20,000t of earth before sliding the bridge into place. Rail tracks were then re-laid over the new bridge. All of the work was undertaken within the permitted four-day closure period and the project team handed the railway line back to Network Rail six and a half hours earlier than planned.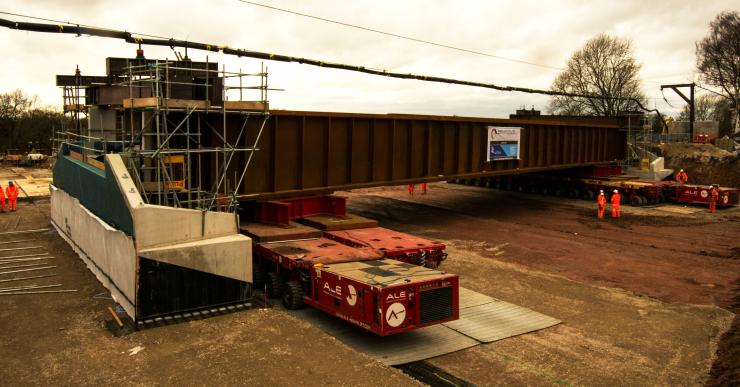 "I am immensely proud of how well the team have performed on this bridge," said CMS project director Neil Rogers. "It has been a very challenging and complex structure requiring a high level of engineering and surveying expertise to ensure everything fitted together correctly. We have spent over two years planning this bridge slide. Seeing everything come together as planned is very rewarding. We had a lot of public interest over the weekend and a number of our staff enjoyed the opportunity to discuss the work with them as they watched the slide take place."