The bridge is one of a series of potential projects being considered for development of the riverside area of the city in northern England. The council's cabinet will be asked to take a US$7.4 million decision next week on the design, feasibility and development works needed to progress the bridge and several other schemes. It is being asked to approve the procurement and appointment of suppliers to undertake initial feasibility services, surveys and investigation works in relation to the capital schemes.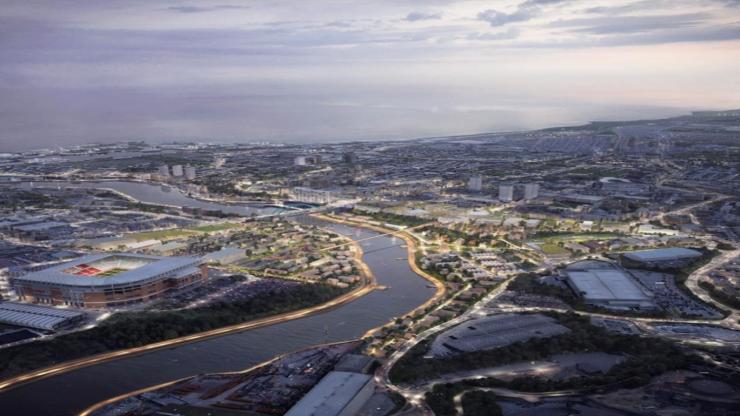 Councillor Graeme Miller, the leader of Sunderland City Council, said that the amount of money involved reflects the size and importance of the projects. "This is very probably the biggest allocation of funding this council has made for feasibility and design works," he said. "The council and its partners in the private and public sectors are deadly serious about building a 21st century city and our city plan for a more dynamic, healthy and vibrant Sunderland."
Two ideas for the footbridge are outlined in the report to cabinet. One is for a high-level bridge between a former brewery site and the city's Keel Line to near the Stadium of Light at Sheepfolds. The other would be at a lower level and would link Galleys Gill Riverside Park with a cycle route.
Miller said: "It's well-known that for several years there's been ideas and aspirations to have a new pedestrian and cycle bridge from the city centre to the northern side of the city. The recent publication of the Sunderland Riverside masterplan has also highlighted that potential.
"A high-level bridge would improve links from the city centre to the stadium and promote development on both sides of the river. A bridge from Galleys Gill would help bring the park back into use and, again, promote more development on both sides of the river."
A number of consultants and specialist contractors would be required to progress the scheme up to the potential construction phase. Decisions on whether to proceed with the construction of any bridge or bridges and related matters will be made following the review of detailed feasibility reports and cost estimates and funding, the report to the council says.